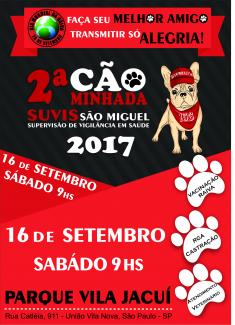 O evento 2° Cãominhada de São Miguel Paulista irá atender a população que frequenta o local, para ações de conscientização, prevenção e informações para combate a raiva humana e animal, onde mostraremos como ocorre a transmissão e como agir em caso de mordeduras.
Teremos neste dia:
Registro Geral Animal (R.G.A.), com orientação de como proceder para obter castração;

Vacinação contra a Raiva animal (ao lado de fora da entrada do parque);

Palestras com orientações sobre mordedura de cães e gatos (como evitar que ocorra a mordedura, procedimentos no momento da mordida, qual equipamento buscar atendimento e qual tratamento a ser realizado) e sobre morcegos (apresentação dos tipos de morcego e como proceder ao encontrar um);

Estandes de serviços prestados pela Supervisão de Vigilância em Saúde de São Miguel Paulista com equipamentos e EPI para visualização;

Informativos sobre dengue, zika vírus, chikungunya, posse responsável e etc;

Exposição dos sinantrópicos;

Pinturas educativas em quadros;

Equipe voluntária de estudantes e professores de medicina veterinária para orientação e atendimento especializado dos participantes da Caominhada;

Lançamento da campanha de redução em 30% de casos de mordeduras até 2030 (30% menos mordidas em 2030).
• P.S.: Evento ocorrerá no Parque Linear do Jacuí (Núcleo Engenheiro Antônio Arnaldo de Queiroz e Silva), situado na Rua Catleias, n° 911.
================================================================================================================================================
The 2nd event of São Miguel Paulista to attend the population that attends the site, for actions of awareness, prevention and information to combat human and animal rabies, where it shows how to happen and how to act in case of bites. We will have this day:
General Animal Registry (R.G.A.), with guidance on how to proceed to get castration;

Vaccination against an animal Anger (outside the park entrance);

Lectures with guidelines on biting dogs and cats (how to avoid biting, procedures at the time of bite, which equipment to seek care and what treatment to perform) and on bats (presentation of bat types and how to proceed to find one);

Stands of services provided by the Health Surveillance Supervision of São Miguel Paulista with equipment and EPI for visualization;

Information on dengue, zika virus, chikungunya, responsible possession and etc;

Exposure of synanthropes;

Educational paintings on paintings;

Volunteer team of students and professors of veterinary medicine for orientation and specialized assistance of the participants of the Caominhada;

Launch of the reduction campaign in 30% of bite cases by 2030 (30% fewer bites in 2030).
• P.S .: Event will take place at Jacuí Linear Park (Núcleo Engenheiro Antonio Arnaldo de Queiroz e Silva), located at Rua Catleias, n ° 911.
Event images