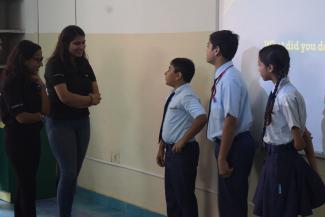 About the event - 
Enactus Motilal Nehru College, a team of 40+ members working towards the eradication of rabies, marks World Rabies Day by enrolling and completing the Rabies Educator Course available on Global Alliance for Rabies Control's website. It's not just a day of celebration but a chance to take a step forward to bring about a change and do something towards the goal of ending rabies. Enactus Motilal Nehru College will be celebrating this day by conducting Rabies Awareness Drive - Eradicate Rabies, Not Stray Dogs (Desi Apnao, Rabies Bhagao) with the children of different government and private schools and slum areas.
We invite you to be part of this initiative too by taking up these courses to increase your knowledge about rabies, its prevention and control and creating an impact in this society. 
Also, supporting End Rabies Now campaign to mark this day, we invite you to take action and pledge to end rabies. Rabies is a serious health problem which requires urgent aid. Your support will help this campaign reach the right people and become a voice for thousands of people and animals around the world. 

About Enactus Motilal Nehru College - 
Enactus Motilal Nehru College, started in October 2014 is currently working on Project DESI (an extention of previous project, Project Parivartan with the aim of eradicating rabies). DESI stands for Duty to Empathize, Sterilize and Immunize stray dogs. Through this project, we wish to increase people's participation in the Animal Birth Control (ABC) Program and eradicate rabies. Under the duty to Empathize, it is everyone's duty to give care and love to stray dogs. Under the duty to Sterilize and Immunize, people should get the stray dogs sterilised and immunised. We implement this model by bringing in the participation of various Residents Welfare Associations (RWAs) and Educational Institutions to collaborate with Animal Welfare NGOs by paying them a nominal fee for the ABC Program implementation. This helps to create a safe environment for the stray dogs as well as reduces rabies in the locality. In just a short span of 11 months, we have sterilised 32 dogs and generated revenue of Rs.16,000 for the animal welfare NGOs across Delhi NCR. We plan to take this model and implement it on the national level in India. Through this event, we'll not just be able to create awareness but will also know more about rabies, its prevention and control and help us in incorporating the same in our Project DESI.
Event images