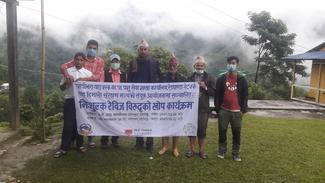 Known for being human's best companion, dogs have infamously emerged as a major threat to the future of nearly 200 species worldwide, some of which are critically endangered. Dogs in Nepal are killing red panda— an endangered wild animal who has been increasingly victimize by dog bite resulting in its mortality.
Inhabitant of Panchthar-Ilam-Taplejung (PIT) district in eastern Nepal, red panda, dwells in broadleaf forest of high mountains where people lacks basic facilities from health care to education to road facilities in the far remote villages. The possibilities of having access to veterinary and vaccination services are beyond reach.  
Red Panda Network (RPN), a non-profit organization, committed to protect wild red panda has been conducting free vaccination and awareness programs in 5 of nation's red panda range district i.e. Panchthar, Ilam, Taplejung, Jajarkot and Dolpa. The campaigns are conducted in 20 remote villages of five districts. Some villages take days to just reach there. The campaign kick started from August 30 and will continue till September 29. RPN collaborates with local agencies and community organizations in each district who then partnered with District Livestock Service Centre for technical support in implementing the free vaccination programs. We also operate free neutering service for those  willing to do so. Further, we also educate and aware villagers about the danger of rabies and the importance of vaccinating animals. In 2021, we have managed to provide free vaccination for 2,040 dogs and 25 cats, few of them were feral and free ranging dogs.
So far, RPN in collaboration with local communities and District Livestock Service Centers have provided free vaccination for more than 4,500 dogs in nation's red panda range districts. 
Dogs, a top threat to wild red panda populations can also spread seven species of gastrointestinal parasites. These free vaccination campaigns are an effort to reduce such threat for red panda and people of those communities.
A place free of rabies disease for people as well as wildlife !!!
Event images