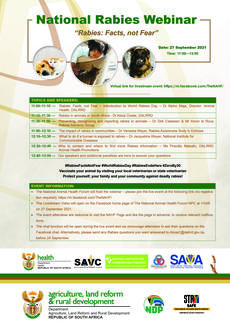 Ahead of #WorldRabiesDay, South Africa will be hosting a National Rabies Webinar on Monday, 27 September 2021. 
Dog & cat owners and the community at large have been invited to an information and dialogue session on rabies. 
Topic and speakers include: 
- Rabies: Facts, not fear - Introduction to World Rabies Day - Dr Mpho Maja, Director: Animal Health, DALRRD
- Rabies in animals in South Africa - Dr Alicia Cloete, DALRRD
- Preventing, recognising and reporting rabies in animals - Dr Didi Claassen & Mr Kevin le Roux, Rabies Advisory Group
- The impact of rabies in communities - Dr Vanessa Meyer, Rabies Awareness Body in Eshowe 
- Who to contact and where to find more information - Ms Priscilla Matsafu, DALRRD; Animal Health Promotions 
*The National Rabies Webinar is proudly brought to you by Department of Agriculture, Land Reform, Rural Development (DALRRD) in collaboration with South African Veterinary Association (SAVA), South African Veterinary Council (SAVC), the National Department of Health (DoH), the National Institute for Communicable Diseases (NICD), the National Animal Health Forum (NAHF) and the Rabies Advisory Group (RAG). 
*The OIE financially supported 2021 Rabies Campaign Communications in South Africa.