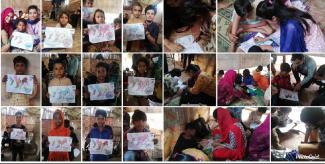 Vets Care Club, University of Veterinary and Animal Sciences, Lahore celebrated World Rabies Day 2019 under the Civic Engagement Program in collaboration with other animal welfare societies, VCS and Savers. First, Vets Care Club arranged an awareness Session on Rabies at a charity school named of ASN School (by SKZ), Sabzazar, Lahore on 26th September, 2019 (Thursday). The underprivileged kids are at higher risk of Dog Bites due to their environmental conditions and lifestyles. Our cabinet was keen in helping such kids to understand the risk of Dog Bites and Rabies. Awareness Brochures were distributed with attractive diagrams to make children understand the threat and cure of rabies and children colored on it. Team distributed pencil colors, cake, biscuits and juices among them. The day ended with a group photo.
On 27th September, 2019 (Friday) the celebrations started with Awareness Walk from VC Office, UVAS lead by the worthy Vice Chancellor of UVAS, Prof. Dr. Talat Naseer Pasha, Patron VCC and VCS of UVAS, Prof. Dr. Aneela Zameer Durrani, Senior Tutor UVAS, Prof. Dr. Kamran Ashraf, In charge Pet Center UVAS, Prof. Dr. Asim Khalid, Dr.Javaid Iqbal from Brooke Hospital for Animals, Dr. Arif and Dr. Rizwan from Saadat International, Dr. Ayesha Arif from Ghazi Brothers along with rest of professors, staff and students of UVAS. During Awareness Walk, Photo booth and pledge signing were inaugurated by Prof. Dr. Talat Naseer Pasha, Prof. Dr. Aneela Zameer Durrani, Prof. Dr. Kamran Ashraf and rest of honorable guests by cutting the ribbon and signing the pledge i.e., "I pledge to support an end to deaths from rabies by 2030 for the good of humans and animals". Pledge was also signed by cabinet members and students of UVAS. Continuing the walk, the Free Vaccination Desk of Rabies for Animals was inaugurated. First vaccination was injected by Dr. Uzma Farid Durrani to a dog. Vaccines were sponsored by Ghazi Brothers and Saadat International. Poster Competition with the theme Vaccinate to Eliminate was also arranged and the posters of participants were displayed on pharma corridor. The walk ended with a Group photo in front of main building, UVAS.
In Nestle Hall, Awareness Seminar was started with the name of Allah Almighty. Welcome note was given by worthy Vice Chancellor Prof. Dr. Talat Naseer Pasha followed by three lectures, first given by Dr. Hassan Mushtaq, Chairman Epidemiology Department, UVAS on the topic of Rabies in Animals. Second lecture was delivered by Prof. Dr. Aneela Zameer Durrani (Professor of Medicine, UVAS, Lahore) and third lecture was delivered by Dr. Ayesha Arif from Ghazi Brothers on the topic, Facts and Figures of Rabies. Documentary Clip on Rabies free Lahore was played as a tribute and to highlight the efforts on eradication of rabies from Lahore by 2030. 
Event images