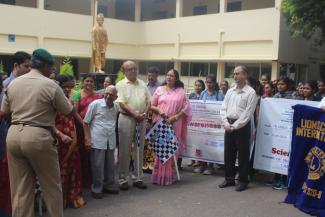 Bhavan's Vivekananda College of Science, Humanities and Commerce,Sainikpuri, Secunderabad 500094, Telangana, India, had conducted a two day "Rabies Awarenes  program" on 27th and 28th September 2019 as part of the college Science Club. The event has been supported by Global Alliance for Rabies Control , WHO.
The Awareness program for rabies included the following events
1. Guest Lecture by Dr.Sampath Kumar-Coordinator Global Alliance for Rabies Control
2. Skit on Rabies awareness- Play by Post Graduate students of Microbiology of Bhavans Vivekananda College
3.Online ePoster competition
4. A Rally consisting 1000 students on 28th across the vicinity and in Sainikpuri area . the rally was organized 7-8 km. creating awareness in the neighbourhood as well as among the people along the streets.
Report
RABIES AWARENESS PROGRAM
Department of Microbiology & Chemistry under the Science Club of Bhavan's Vivekananda Degree & PG College,Sainikpuri organized an awareness program on the occasion of ''World Rabies Day'' on 27th& 28th Sep 2019. The event was supported by Global Alliance for Rabies Control, World Health Organization(WHO) , Hyderabad Chapter of Association of Microbiologists of India (AMI) .The NCC,NSS &Bharath Scouts & Guide Team of BVC took an active part in the event. Rabies a disease which is observed in mammals can spread to human beings via a bite or scratch by an infected mammal. Though there is no treatment for the disease if infected, still it is 100% preventable. To stress on the prevention of this dreadful disease the awareness program was conducted.
Day 1: 27th Sep 2019
Day 1 of the event was marked by the address of Mr. AjitNair,CEO,VINS Biotech on the prevention of Rabies virus using the vaccines available. There was a huge enthusiasm in students presenting the skit on Rabies as a disease: prevention & control. This was followed by a talk by Dr SampathKumar,Former Director,Institute of Preventive Medicines.DrSampath Kumar emphasized on safety measures for humans to prevent rabies virus attack & importance of vaccination if bit by a mammal.
An intercollegiate e-poster competition on 'Rabies Prevention & Control' gathered a huge response among participants.69 e-posters were received from various colleges. Students of Bhavans Vivekananda College,Sainikpuri,St Francis College, Little Flower Degree College,Govt college for women Begumpet,St Pious College,Govt Degree College Kurnool, Silver Jubilee Govt College, Kurnool took part in the e-poster.
Day 2: 28th Sep 2019
Day 2 was scheduled with an awareness rally on ''Rabies Prevention & Control'' in association with World Health Organization on account of World Rabies day by NCC Cadets ,NSS , Bharath Scouts & Guide,Youth Red Cross Society,Centre for Excelllence, students  & Faculty of  Bhavan's Vivekananda College. Vice Chairman of Bharatiya Vidya Bhavan ,Sainikpuri Kendra,Air Cmdre JLN Shastry flagged the commencement off the rally.The rallywitnessed the participation of Mr Ajit Nair,CEO,VINS Biotech,Dr Sampath Kumar,Director,Institute of Preventive Medicines,Lion's Club Hyderabad&750 students.The rally was recognised nationally by National Disease Control.
The two day Awareness Program on Rabies Prevention & Control was a huge success not only among the students but also could reach out to the public in the form of a rally for a healthy & Rabies free society.
Event images