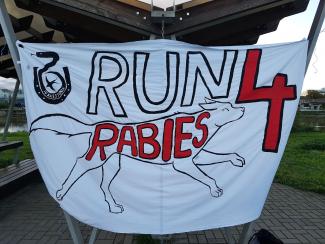 International Veterinary Students' Association (IVSA) Estonia organizes this sporty and educational fundraising event in order to collect donation for local target for rabies preventative work. In last two years the collected funds were donated to local shelter, Tartu Varjupaik.
The event will be arranged on World Rabies Day in campus of Estonian University of Life Scinece.
At the starting point of orinteering, on the yard of campus dorm, IVSA Estonia will be selling waffles and having info posters about rabies and its prevention. The orinteering itself is going to locate around the campus, and each stop point is going to have small quiz question about rabies. All parcipitants of orienteering are included in raffle for giftcards for local cinema.
Even though Estonia is considered as rabies-free country since 2013, the preventative work is still great necessity due shared land border with Russia. Oral vaccination campaigns between 2005 and 2008 radically decreased recorded wildlife rabies cases and after March 2008 there haven't be new cases except few wildlife cases near border of Russia.