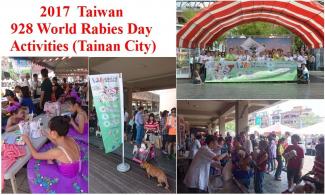 The most sparkling innovative prevention actions in 2017 at Taiwan are:
1. Cooperating with Manga College of Japan Kyoto Seika University, developed a 24 pages manga "Let's Go on an Adventure to Learn about Rabies" in English as well as Chinese versions.
2. Two Ministries in Taiwan Central Government, the Ministry of Education and Council of Indigenous Peoples, expanded the Chinese version to enhance the elementary schools education of rabies nationwide, esp. for those living in the mountains.
3. In the World Rabies Day, a total of 3 versions of coloring sheets for the "2 don't and 1 do" --- don't abandon dogs, don't contact wildlife, do vaccinate! --- acted by the manga actors in the coloring sheets were also used for coloring contests campaigns nationwide. 
Event images