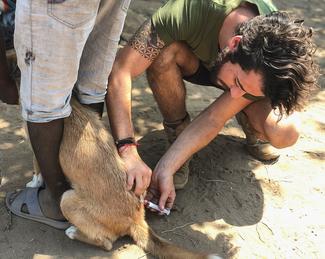 Vets Beyond Borders (VBB) is an Australian-based international animal welfare charity, with a vision to create a world of better health for animals and people.
On this World Rabies Day 2020, VBB will be hosting a series of interviews and creating a video production to spread awareness of the disease in Australia, and ensuring that this rabies-free countries remains aware of the risks of rabies - both re-introduction as well as when travelling. 
The video will be published to our website on World Rabies Day.
Our interview series features international speakers with expertise in the field:
- Dr Mark Schipp, Australia's Chief Veterinary Officer; President, World Organisation for Animal Health (OIE)
- Dr Bernadette Abela-Ridder, Department of the Control of Neglected Tropical Diseases, World Health Organization (WHO)
- Dr Terence Scott, Technical Lead – Rabies, Middle East, Eastern Europe, Central Asia and North Africa Rabies Control Network (MERACON) Steering Committee, Global Alliance for Rabies Control (GARC)
- Dr Emily Mudoga, Animal in Communities Manager, World Animal Protection (WAP) – Kenya
- Dr Erika Flores Reynoso, Project Manager and Veterinary Advisor for Latin America and the Caribbean, International Fund for Animal Welfare (IFAW)
- Dr James Gilkerson, Professor (Veterinary Microbiology), University of Melbourne
- Dr Guyan Weerasinghe, Veterinary Officer, Northern Australian Quarantine Strategy – Australian Government Department of Agriculture, Water and the Environment
- Dr Bonny Cumming, Programs Manager, Animal Management in Rural, Remote, and Indigenous Communities (AMRRIC)
- Edson Chiweta, Rabies Project Officer, Lilongwe SPCA, Malawi
- Dr Thinlay Bhutia, Program Coordinator, Sikkim Anti Rabies and Animal Health program, India
- Dr Janey Lowes, Founder and Head Veterinarian, WECare WorldWide, Sri Lanka
- Christine Askew, Founder, Dumaguete Animal Sanctuary, The Philippines
- Dr Helen Byrnes, Director, Vets Beyond Borders
- Dr Charmaine Tham, Director, Vets Beyond Borders
- Dr Alan Sherlock, Lifetime member and 11-time volunteer, Vets Beyond Borders
Event images