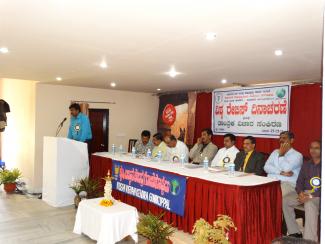 The Karnataka Veterinary Association Bengaluru in collaboration with the association chapter of Kodagu District is organizing a technical symposium on  Rabies on 27th Sept 2017 at Coorg international hotel  Madikeri.
About 200 Vets from Mysore division and invited public are expected to participate.
The meet will also include free anti-rabies vaccination of dogs and cats.   The events will be inaugurated by  Dr. Richard Vincent D'Souza  I A S, District  Deputy Commissioner.
Dr. Devadas, (Joint Director) Dr. V.R. Suresh(Dy.Director) Dr. Shivasharanappa Yelgod, (State President) Dr. A.D. ShivaRam,( Secretary General)  Dr. R. Narendra  (chairman  Karnataka Veterinary Council)  Dr. Nanjesh, (Vice-president K.V.A Mysore)  Dr. K.C.Ramu  (Gen.Sec, K.V.AMysore)  Dr. K.P. Iyyappa (President K.V.A Kodagu Dist)  will grace the occasion as guests of honor.
Dr. N.L. Gangadhar Sr. Scientist Zoonosis Bengaluru,  Dr. A Krishna Swamy,  Retd Prof of the Veterinary University Bangalore and Dr.  Sidda Ramanna Sr. Scientist N.D.R.I Bangalore will render the expert lectures on various aspects of Zoonosis of Rabies. 
M/S Boehringer Ingelheim Mumbai will provide their popular long acting brand of anti-rabies vaccine "RABISIN" free of cost for the campaign
Dr. B.G.Girish the General  Secretary and Dr. Shantesh  treasurer   of Karnataka Veterinary association Kodagu Dist  will oversee all arrangements
Post facto report.
The event was a well-attended one with anti-rabies vaccination program extended for the 28th also.   
Event images