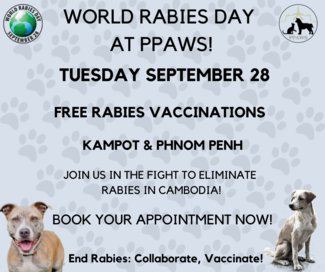 Tuesday September 28 is World Rabies Day! 

To mark this year's World Rabies Day, PPAWS will be offering FREE vaccinations at both our Phnom Penh and Kampot Clinics!
Each year rabies kills an estimated 800 Cambodians. These deaths are completely preventable by vaccinating animals. Join PPAWS in helping to eliminate this deadly disease by bringing animals for FREE rabies vaccinations! 
Book your appointments now! 
Phone/ Telegram
Phnom Penh: 078 611 289
Kampot: 092 888 169

#WorldRabiesDay #EndRabiesNow