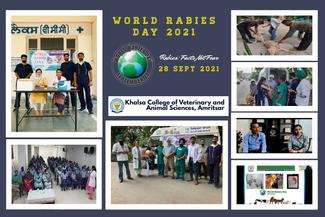 Khalsa College of Veterinary and Animal Sciences had organized free anti-rabies vaccination at two places simultaneously - the College Hospital and Green Avenue locality in the city. Around 30 stray dogs at Green Avenue location were successfully vaccinated with active cooperation from Sardar Gunbir Singh (Fin. Secy, KCCS), Miss Navdeep, Miss Alisha and Miss Smaira. A total of 50 doses were used to vaccinate both pet and stray dogs of two major spots in Green Avenue locality and the Khalsa Veterinary College Hospital, Ram Tirath Road, Amritsar.
Awareness talk on rabies prevention and control was delivered online through youtube channel and facebook by Capt. Dr. G. Dhanan Jaya Rao, Professor and Head of Department of Veterinary Surgery and Dr. P.N. Dwivedi, Professor and Head of Department of Veterinary Microbiology.
Media Cell members and organizers of the event Dr. R.Ralte and Dr. Naripjeet Kaur with Dr. Manrajdeep Singh also shared important information on rabies: prevention and control among the school children of Sri Guru Harkrishan Public School, Chief Khalsa Diwan Charitable Society, Basant Avenue. Important facts on canine rabies vaccination, post-bite first-aid care and vaccination were mentioned.
Online social media campaign competition was also organized successfully on three categories namely, E-poster, Popular article writing and Short video on awareness of Rabies. Participants from various parts of India compete in these events.
Event images