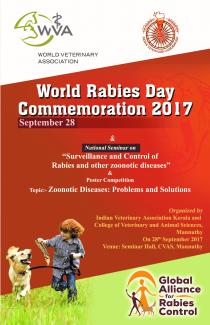 World Rabies Day is a cooperative global event planned to reduce the suffering from rabies observed on September 28. It is celebrated annually to raise awareness about rabies prevention and to highlight progress in defeating this horrifying disease. September 28 also marks the anniversary of Louis Pasteur's death, the French chemist and microbiologist, who developed the first rabies vaccine. This day celebrates Dr. Louis Pasteur's vision of a rabies free world.
Today, safe and efficacious animal and human vaccines are among the important tools that exist to eliminate human deaths from rabies while awareness is the key driver for success of communities to engage in effective rabies prevention. It is an opportunity to unite as a community and for individuals, NGOs and Governments to connect and share their works.
At the global conference on rabies elimination in 2015, a common goal of zero human death from canine rabies by 2030 was set by the World Health Organisation, OIE, Global Alliance for Rabies Control (GARC). In support of this goal, the World Rabies Day 2017 theme is Rabies: zero by 30.So let us work together to curb the disease.
About IVA Mannuthy
Indian Veterinary Association (IVA), Mannuthy unit is functioning since 1978 at College of Veterinary & Animal Sciences, Mannuthy.  Presently the IVA, Mannuthy unit has around 175 members.  Being a professional organization, it's our duty to stand in the forefront in controlling rabies and educating the community about the zoonotic diseases.
Call for abstracts/article
Indian Veterinary Association is inviting scientific abstract or article from students, faculty, scientists and field veterinarians for poster presentation on "Zoonotic Diseases: Problems and Solutions". The abstract (not more than 500 words) or article (not more than three pages) should be submitted on or before 22/09/2017 to email id: [email protected] along with title in Bold, name of the author(s), and full address of correspondence including email and the name of the presenting author in bold. Abstracts/article received after the due date will not be included in the souvenir. 90 cm X 120 cm size area will be provided for each participants for poster presentation and the material used must be biodegradable type like paper, cloth etc.
Event images