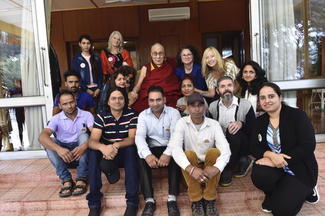 Overview:
Our overall goal/mission is to alleviate the human/street dog conflict in Dharamsala. We know that this exists due to the population of street dogs, fear of dog bites and rabies, and lack of education on how to interact with the street dogs in a safe and humane manner. Dharamsala Animal Rescue has been working in the field of rabies since 2009. Sterilization and vaccination has always been a core part of our work. Since 2009, we have held World Rabies Day events each year - always including a vaccination camp with an education component.
Starting 2018, we started running school programs once a month that teaches how to be kind to a street dog even if you are afraid, and what to do if you get bit. We also held rabies vaccination camps for 3 years in the town slum where 800 people lived in makeshift tents to keep the people safe from rabies. In 2018 and 2019 we have held mass vaccination camps during December, but this year we will be holding it for 10 days on World Rabies Day. Since 2009, we have given
8176 rabies vaccinations.
Our work:
Our main programs are designed to effectively achieve our mission and goals:
ABC/AR (Animal Birth Control/Anti-rabies) - This program is a systematic approach to creating a rabies-free environment and controlling the population of strays humanely. We perform annual population surveys and
annual rabies vaccination camps along with our monthly catch and release program. Unfortunately, due to Covid 19, our camps are on hold. These programs have been our best way to communicate with the community, on the importance of sterilization and vaccination, including verbally teaching feeders and community members about post bite protocol.
Humane Education – Our school program, "Animal Buddies," teaches young children how to be kind to stray dogs even if they are scared of them. It also teaches kids and teachers what to do if they get bit by an unknown dog, so that they are safe from rabies. We have learned that even the teachers need this training, especially on what causes rabies, how to treat rabies. There are still too many village myths. 
Street Animal Rescue – This program provides an optimal environment for any small animal needing 24/7 care due to accidents, disease, cruelty, or abandonment. This program has had a huge impact on the compassion the community shows towards the street dogs. DAR shows that if you show compassion that others will follow.
Impact:
Since 2009, we have given 8176 rabies vaccinations. Our Animal Birth Control programme has resulted in the treatment of 11,949 animals (mostly dogs), while our humane education programme has resulted in more than 1000 children and teachers being educated. We have also undertaken dog population estimate surveys in Dharamsala where we estimate that 4200 dogs live in this community. 
(content modified from nomination information)