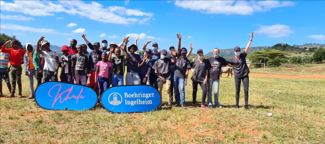 Description of our work
Khula, a Zulu word, meaning "To grow or thrive". Khula Vet was founded by two South African Veterinarians, Dr's Charlotte Philip and Michelle Armour. We believe that education is key to empowerment. Veterinary Science is both challenging and deeply rewarding. With increasing stressors, elevated suicide rates, and a large proportion of young veterinarians moving out of private practice - there is clearly a need, now more than ever, for mentorship and training in the early years of a vet's career. Khula Vet was created BY vets FOR vets. The first few years of practice are arguably the most challenging and stressful times in one's veterinary career. Khula Vet was born from our passion to help our young colleagues build resilience in this demanding profession, expand their capabilities, and ultimately thrive as vets. It is our hope that through this support, our colleagues can flourish, find fulfilment in this unique industry and create a ripple effect in their surrounding communities. Khula has expanded this bespoke training to include veterinary nurses, animal health technicians, kennel staff and receptionists.
South Africa is in a state of crisis with regards to rabies. The desperate  need for increased rabies awareness, combined with our passion for teaching, gave rise to the Khula Outreach Student Elective program. Khula Outreach was created to address the need for increased rabies awareness across South Africa, starting in KwaZulu-Natal (one of the provinces most heavily impacted by rabies). The goal is to inspire our younger generation of vets to become leaders in rabies management and drivers of primary health care in rural communities. The Khula Outreach Student Elective Program offers a platform for final year veterinary students to contribute to the fight against rabies in a meaningful way. We aim for rabies management to be a fundamental part in every South African vet student's journey. By empowering the future leaders of our profession, we hope to create ambassadors for rabies education. We believe we can greatly contribute to a sustainable rabies management strategy for years to come.
Khula Outreach has partnered with the KwaZulu-Natal State Veterinary Department in the fight against rabies. This is achieved through strategic vaccination campaigns with the assistance of veterinary students. The goal is to build herd immunity of dogs and cats in rural areas of KwaZulu-Natal whilst simultaneously driving rabies awareness.
The South African Faculty of Veterinary Science, Onderstepoort, requires its final year students to do a series of self-directed electives. The intention is for students to gain exposure to private practice and welfare work. Thanks to our valued veterinary industry partners, such as Boehringer Ingelheim Animal Health and Hill's Pet Nutrition, we are able to offer veterinary students a unique educational experience. Not all students have the connections and resources to arrange truly qualitative electives and thus we are proud to offer a premium experience to vet students from all backgrounds and cultures.
Khula Outreach provides a unique experience for the student, as it offers a comprehensive platform for students to gain experience in all three spheres of the veterinary profession: private practice, welfare (with a focus on rabies management) and industry.
PREPARATION FOR COMMUNITY SERVICE
As part of the Khula Outreach program, students will be exposed to vets currently in their community service year, creating opportunities for students to ask questions in an intimate group setting, and dissolving any potential fears and uncertainties.
Each group will benefit from a life skills session by a qualified life coach who has a special interest in the veterinary field. Guidance on managing cultural differences, building resilience as a vet, and dealing with compassion fatigue are addressed during these vital sessions.
PRIVATE PRACTICE
Students join Drs Megan Wassung and Charlotte Philip in private practice at a 24-hour facility, Hillcrest Veterinary Hospital. Here they shadow Dr Wassung, and the Hillcrest veterinary team during consultations, diagnostic work ups, surgical procedures and hospital case treatments. The objective is to highlight Day 1 competencies with a focus on mastering client communication. Students will have the opportunity to sterilize dogs and cats that are booked in as welfare cases under close guidance by Dr Wassung. Many students only perform sterilizations in their surgical rotation in final year with no other exposure before graduating. This is a unique opportunity to gain invaluable surgical experience with one-on-one supervision by a Khula Veterinarian. Private practice work is a vital part of strengthening the human-animal bond, which speaks directly to the One Health approach in managing rabies, and thus runs hand in hand with our Rabies Management initiative.
INDUSTRY
The students are given the unique opportunity to interact with multiple vets from Hill's Pet Nutrition and Boehringer Ingelheim Animal Health. This allows for excellent exposure to both the nutrition and pharmaceutical pillars of the veterinary industry. Along with product training, students will learn about the importance of vaccination programs and the key principles of rabies elimination strategies that have been successful both locally and abroad.
Khula Outreach provides an inclusive offering for students from potentially underprivileged backgrounds. This initiative allows for such students to further their education, expand their professional and personal capabilities, and most importantly become champions of rabies education & eradication.
Impact in numbers
Number of animals vaccinated (YTD) = 1306 (Target: 2000 by end 2021) Number of students trained = 40 by end of 2021 (40% of 2021 graduating class)
Number of people educated = 2612 (Target : 4000 by end 2021) Number of animals sterilized = 16 (Target: 35 by end 2021)
Impact (description)
1: Relationships: it is evident in the areas where there has been annual vaccination drives, the health of the animals, overall understanding of pet care and general human-animal well-being has been far better than those areas that are lacking such exposure. (difference observed between repeat areas and new areas visited)
2: Feedback from Veterinary students after having attended Khula Outreach has been overwhelmingly positive:
"Khula Outreach was really amazing and one of the very best parts of clinics for me thus far, and I am so excited for more students to experience this and to become a part of this amazing initiative which helps to impact change on the rabies situation in our country" - Justin Hogan – final year veterinary student
Watch our Rabies Outreach Video: https://fb.watch/88OJxOKzxY/
Share a personal experience
Khula Outreach was inspired by the work of Dr Peter How and his initiative, Amageza Dog Welfare Project –
"As an avid motorbike rider, I was doing a lot of riding in the Inanda Valley in KZN (KwaZulu-Natal). It was during these rides that I discovered a massive need for primary dog health care in this area. The dogs are predominantly well-loved, but these are remote areas, with little to no access to health care. Rabies is a very real threat in these areas, so this was always the primary drive for the project. Soon we realised that deworming was important due to the close interaction between the dogs and their owners - children especially. Relationships were forged with communities and the area that we helped grew. Amageza's primary goal is to create communities that are better educated about animals and are safer for pets and owners alike. It's all about giving back a bit. It's about a better, safer bond between pets and their owners. It's about creating a better future" - DR PETER HOW, AMAGEZA FOUNDER
A friendship built on a shared love for welfare work, it was Charlotte and Pete's dream to join forces and take rabies awareness to a bigger stage. Peter How tragically passed away in a motorbike accident in November 2019. It was a devastating loss to his family, friends and the South African Veterinary Community, but his legacy lives on in every one of us who take part in Khula Outreach and we know he is with us in spirit on every vaccination drive. Khula outreach continues to fly the Amageza Dog Welfare flag in his memory.
Partners
The key to Khula Outreach's success is through an established network of committed veterinarians and animal care givers in the South African Veterinary Community.
KwaZulu- Natal State Veterinary department;

The Faculty of Veterinary Science - Onderstepoort,

Hillcrest Veterinary Hospital,

Multiple welfare organizations in Durban and surrounds.
*All information supplied by nominee*