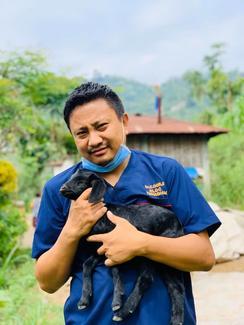 My work:
Dr. Chendu Dorji is the leader of the regional office driving the Sustainable Dog
Population Management and Vaccination Program in west-southern region of Bhutan.  
Rabies Prevention and Control Program: the team has coordinated the sustainable program on dog population management (DPM) and rabies vaccination program through involvement of community and key
stakeholders. The education and engagement of communities is essential in carrying out the successful DPM and vaccination program. The program also aims to promote individual and community dog ownership through community engagement. All the stray free roaming abandoned puppies were picked for adoption. All the abandoned puppies or juvenile dogs were checked for temperament and trained by vet officials and housed in shelters. Later the dogs are sterilized, vaccinated and rehomed after proper registration with the veterinary offices.
Rapid response actions during rabies outbreaks: Coordinated and lead team for containment of rabies outbreaks in the region. Annually, about 21 rabies outbreaks were reported in region. He successfully coordinated rabies control measures using the One Health approach during outbreaks and carried out vaccination program to create an immune belt during outbreaks. 
Observation of World Rabies Day: Dr. Chendu Dorji annually observed and celebrated World Rabies Day by coordinating mass vaccination and community awareness programs in areas at both high and low risk for rabies.
Successes:
Sustainable dog population management and vaccination program: This was implemented in Haa districts, where about 93% sterilization and vaccination and 65% dog adoptions was achieved. A team also carried out mass rabies vaccination program amid rabies outbreaks in adjacent districts and covered 1216 dogs in 9 days. The pilot program is a successful model with proper estimation of dog population size (survey) and innovative implementation modalities. Based on its successes, this model will be replicated in other districts. All sterilized and vaccinated dogs were ear notched as identification.
Rapid response actions during rabies outbreaks: Coordinated and lead team for containment of rabies outbreaks in the region- Successfully coordinated rabies control measures during outbreaks and carried out
vaccination program to create immune belt during outbreaks. 
Actively designed the risk zoning during outbreaks as infected zone, protection zone by creating immune buffer zone (vaccination), surveillance zone and free zone. Hence Rabies incidences in animal are reduced from 32 outbreaks in 2016 to 24 outbreaks in 2017, 21 outbreaks in 2018, 14 outbreaks in 2019 and 11 outbreaks in 2019-20. We have progressive decline of rabies incidences in animal yearly, and no human case since 2016.
Impact:
The work  has benefitted five region districts- Paro, Haa, Thimphu, Chhukha and Samtse.
We have been successfully able to control rabies in animals and have had no human deaths reported since 2016 in Bhutan. 
Education: Immensely benefited the dairy farmers of five districts about more than 15000 progressive dairy farmers -mainly strengthening the control of spill over infection of rabies cases to other domestic species like cattle, horse, caprine. Sensitized more than 5000 people on rabies in both high risk and low risk
population including students yearly. Sensitized about 3000 people on rabies during world rabies day.
Vaccination: Vaccinated more than 7000 - 10000 community/pet dogs/stray free roaming dogs in region yearly (annually) through dog population management and vaccination programs. Vaccinated about 2000 dogs (pet and stray free roaming) yearly during World Rabies Day (28th September)

Human rabies prevention: Initiated and facilitated post exposure prophylaxis (PEP) in under privileged communities where frequent rabies outbreaks reported through human health collaborative approaches. About 100-150 people who directly or indirectly exposed to rabid animals were advised PEP to human health in a single rabies outbreaks or major sporadic incidences. The human health and animal health officials assess the level of risk among exposed people and availed PEP in every outbreaks.

Responsible dog ownership: About 787 dogs were rehome/adopted by community
and dog lover, as part of individual dog adoption.
(content modified from nomination information)