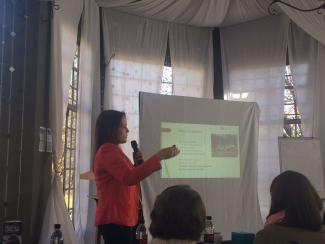 Dr Janse van Rensburg has worked in the field of rabies prevention for 7 years. Her activities include -
- Lecturing and training of veterinary students, community service veterinarians, state veterinarians, private veterinarians and animal health technicians in the field of rabies control, diagnostics and sample collection based on experience from her own work in the field of rabies control and diagnostics.
- Rabies awareness days at schools and with emerging and commercial farmers. Awareness days have helped previously unreached areas where children do not even know what veterinarians are, to learn how to approach animals and prevent dog bites, and how to deal with bite incidents. She is part of the Carlie Rooivlag rabies awareness group and rabies advisory group which involves maintaining the database of positive and negative cases in the Free State province and generating maps which aid with rabies control and campaign planning.
- Validation of an additional diagnostic test for rabies in South Africa. This allows samples to be transported in formalin from regions in the country that are not close to diagnostic facilities and makes the samples safe for couriers who are unvaccinated and preserves the sample for more accurate diagnostics.
(Excerpt from nomination)