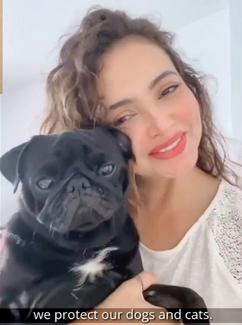 **Original French nomination below, version française ci-dessous**
Description of our work
Given the health conditions with COVID, another approach to awareness raising and health education was taken through the creation of a spot involving well-known influencers and actors in Tunisia. It was an opportunity to reach a larger number of people, of different ages and backgrounds through these personalities and especially via the internet and social networks.
This spot talks about vaccination, animal welfare, making owners responsible, what to do in case of aggression and the right gestures to reduce the stray dog population in our streets.
The video was produced in Tunisian dialect and translated into Arabic, French, English and sign language for wide distribution.
Impact in numbers
In one week: 13,002 animals were vaccinated
6739 people were sensitized in our 220 fixed vaccination centers (where vaccination is available all year round and outside the 3 months of the official annual free rabies vaccination campaign)
Impact (description)
Citizens more concerned about animal welfare
Share a personal experience
The fight against rabies is the daily business of the state veterinarians of the veterinary services, we will not give up
Partners
Our regional veterinary services

Actors: Souhir Ben Amara, Néjib Belkadhi, Najoua Zouhair, Amira Derouiche and Aziz Jebali

Team Audimage for the translations

Houssem Aloui for the sign language translation
*All information supplied by nominee*
****Version française****
Description of our work
Vue les conditions sanitaires avec la Covid, une autre approche pour la sensibilisation et l'éducation sanitaire a été abordé par la création d'un spot regroupant des influenceurs et des acteurs connus en Tunisie. C'était une occasion de toucher un plus grand nombre de personnes, de différents âge et de différents milieux à travers ces personnalités et surtout via à internet et les réseaux sociaux.
Ce spot parle de la vaccination, du bien être animale, la responsabilisation des propriétaires, la conduite à tenir en cas d'agression et les bons gestes pour diminuer la population canine errante dans nos rues.
Cette vidéo a été réalisé en dialecte tunisien et traduite en arabe, en français, en anglais et en langue des signes afin d'être diffusée à grand échelle.
Impact in numbers
Pendant une semaine : 13002 animaux ont été vaccinés
6739 personnes sensibilisés dans nos 220 centres fixes de vaccination (où la vaccination toute au long de l'année et en dehors des 3 mois de la campagne officielle annuelle et gratuite de la vaccination antirabique)
Impact (description)
Les citoyens plus soucieux du bien être animale
Share a personal experience
La lutte contre la rage c'est le quotidien des vétérinaires étatiques des services vétérinaires, on ne baissera pas les bras
Partners
Nos services vétérinaires

régionaux

Les acteurs : Souhir Ben Amara, Néjib Belkadhi, Najoua Zouhair, Amira Derouiche et Aziz Jebali

Team Audimage pour les traductions

Houssem Aloui pour la traduction en langue des

signes
*Toutes les informations sont fournies par le candidat*