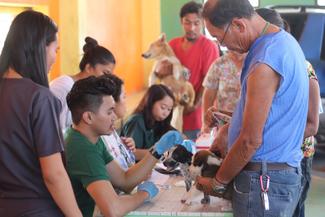 Description of our work:
Since 2019, the Pet Doctor Veterinary Clinic have collaborated with the Local Government of Kalibo in organizing Veterinary Medical Mission at selected areas in Kalibo, Aklan, Philippines. We have regularly conducted Free Rabies Vaccinations for dogs and cats, free deworming for pets and free consultation and first aid treatments as well as Pet Owner education regarding the needs and welfare of pets. This is our way of upholding the values and advocacies of our clinic particularly Responsible Pet Ownership, Animal Welfare and Rabies Awareness. Furthermore, we are one with the goal of achieving a Rabies free community.

Impact in numbers:
360 dogs and cats vaccinated with free rabies vaccine since September 2019
394 dogs and cats given with free worm treatment since September 2019
155 dogs and cats availed of free consultation and first aid treatments since 2019
294 pet owners catered and educated

Impact (description):
Convincing pet owners to have their pets vaccinated have become one of the challenges for us veterinarians in our country. This may be due to pet owners being afraid of clinic bills and there are also people who still believe in superstitions and false beliefs and follows traditional approach in treating animal diseases. But constantly as we are organizing events that allow pet owners to enjoy free veterinary services for their pets, they have slowly become aware of the proper care for their pets as well as proven facts regarding pet diseases, especially the Rabies.
In my private practice, I have also recognized familiar faces from the Veterinary Medical missions coming for the first time in the clinic. This just proves that pet owners are also becoming more consenting in the needs of their pets and is becoming less reluctant to seek for medical advise if necessary.
Since 2019, our clinic regularly organizes events that cater free veterinary services. These events have been supported and recognized by the Local Government Unit and the Barangay Council.

Share a personal experience:
Awareness of pet owners regarding their responsibilities greatly affects the quality of life of animals especially domesticated dogs and cats in general. I believe that if every pet owners are knowledgeable on how to manage and take care of their pets then there will be no abandoned pets, there will be no pets roaming in the streets and pets will not suffer from hunger and untreated illness. I could see that these problems are still present in our country even as of now and I don't think that these animals deserve to be where they are because of human's negligence.

Partners:
1. Local Government Unit of Kalibo
2. Kalibo Municipal Agriculture Office
3. Barangay Tigayon Council
4. Venerable Knight Veterinarians Fraternity
5. Venerable Lady Veterinarians Sorority
 
*All information supplied by nominee*