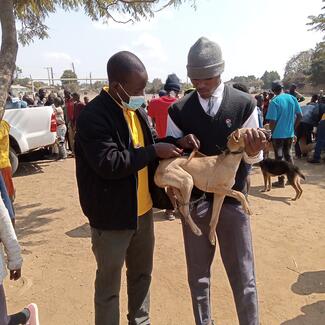 Description of your work
I am a Veterinary doctor working with ministry of Fisheries and Livestock in Zambia. and am a disease control officer. Am currently pursuing an MSc. Field epidemiology. Am now working at National Livestock Epidemiological and Information Centre where we are implementing a project on rabies elimination in partnership with world mission rabies, MSD, and CDC.
Impact in numbers
I am involved in rabies education in primary schools where I have trained and sensitized 35 teachers from 35 schools in Lusaka district of Zambia. These are schools of 2000 primary school pupils (grade 1-9) on average I have trained on average 200 pupils per school.
We are using the WVS app to track the progress on both vaccinations and education. The program is still on going to estimate the exact number reached on rabies education and vaccinations.
In 2019 we had an outbreak of rabies in my district (Nakonde) where we lost a man, and I participated in making the diagnosis and we vaccinated about 800 dogs in the local area of the outbreak.
I have been on our two local radio station Nakonde radio and Chete sensitizing about rabies.
Impact (description)
Our sensitization has increased the vaccination turn out. And we have made it a scheduled activity to conduct rabies campaigns in September every year and bring the services closer to the people in our rural settings. I will have to do a trend analysis to have a clear picture of the dog bite cases and rabies reported cases in the district to determine the change. The department of veterinary services has a local agreement with Nakonde radio station where we have been given airspace to talk to our farms on various animal diseases and one of them includes rabies.
My personal experience with rabies
I think I got really interested after I saw the man who died from rabies at our district hospital. I saw doctors could not help this person and the family members were helpless we could not help this person and we knew the outcome is death. From there I said if the dog that bit him was vaccinated this man could have been arrive. And I know for that fact that if we vaccinate 70% of the dog population, we can end rabies. This is a disease that we have a double chance of combating it. If we miss it in animals, we can prevent it in humans by providing PEP. So, I said we need to partner with local radio station and the local authority to sensitize the people about been a responsible dog owner and curb this disease.
Partners
1. Local Nakonde Town Council
2. Nakonde Radio station
3. Chete radio
4. Ministry of Health
5. Local communities
6. Veterinary Association of Zambia.
7. Zambia Police Service
8. Mission rabies
*All information supplied by nominee. Content edited for language and formatting only.*