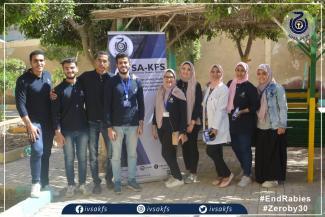 The International Veterinary Students' Association – Kafr El-Sheikh (IVSA KFS)  ran World Rabies Day campaigns in 2017 and 2018. For 2017, it ran an educational rabies campaign at the language school of Kafr Ash Shaykh. For 2018, it launched online and offline awareness campaigns. The online campaign targeted students, professors and animal lovers. Its Facebook page reached out to 5,000 people, with detailed explanations of rabies, and how to protect people and animals against the virus. 
The offline campaign targeted the local medical unit, Al-Hamrawy village, a local girls' elementary school in Al-Hamrawy and Al-Rowad language school in Tanta city. IVSA KFS printed World Rabies Day flyers and distributed them to cover KFS and Tanta city.  In Al-Hamrawy village it spread awareness about rabies among the local people of the village, who are mostly livestock farmers. 
The school campaign in Al-Hamrawy village targeted elementary students with simple illustrations of the disease suitable for their comprehension. It also contacted the parents to ensure that content was delivered to them as well. Al-Rowad language school in Tanta hosted a campaign for students from elementary, middle and high school where they focused mainly on awareness with cat and dog behavior with explanations of rabies and how it affects both humans and pets. IVSA KFS illustrated procedures of correct animal handling using members' pets.
Through a partnership with IVSA Romania it donated rabies vaccines to CART shelter in Cairo. CART shelters about 500 dogs and cats.

(Adapted extract from nomination)