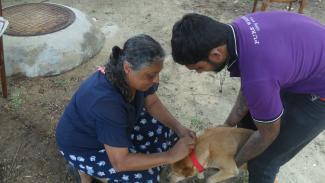 The Kandy Association for Community Protection through Animal Welfare (KACPAW) held the country's first ever International Conference on Rabies Eradication in 2002, involving all crucial stakeholders, at the conclusion of which KACPAW presented to the Government a Five-Year Action Plan to Eradicate Rabies from Sri Lanka. The contents of the Action Plan were based on suggestions and ideas that emerged at interactive discussion sessions by the conference participants.
♦ KACPAW introduced to Sri Lanka in 2002 Early-Age Neutering and Humane Dog Catching Techniques.
♦ When a No-Kill Policy on dogs was declared in mid 2006, and plans were being discussed for humane control of the dog population, by early 2007, KACPAW provided to the State a model via a pilot project it did in late 2006 to do effective countrywide spaying of dogs, which is the model that is being used by the State's National Spay Programme, providing free spaying of female dogs across the country since 2008.
Over 30,000 dogs have benefited since 1999 to date along with the communities in the areas where KACPAW does spay clinics and rabies vaccinations.
(Extract from nomination)