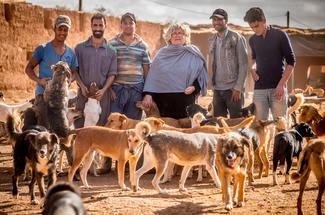 Overview
In 2013 the Association Le Coeur sur la Patte (CSP) was founded to help further her aims of protecting the many animals living in the streets of Agadir and registered it as a charitable organisation in Morocco. Since then CSP has campaigned tirelessly throughout the country to try and improve the rights of animals in Morocco.
Our work:
In 2016, after many meetings, CSP persuaded the local commune in the city of Agadir to set up the first ever government subsidised TNR program in Morocco. TNR or Trap-Neuter-Vaccinate-Release schemes are recognised the world over as the only sure way of eliminating rabies and the most
humane and effective way of controlling street dog populations. By April 2018 CSP had vaccinated, tagged and neutered over 1300 dogs which had mostly all been returned to the streets. But then the authorities in Agadir, responding to pressure from all directions, decreed that all dogs had to be removed from the streets. All dogs in Agadir, including all the dogs that CSP had neutered and vaccinated were now at risk of being
picked up by the authorities, at best contained in very poor and overcrowded conditions, at worst culled, but CSP refused to let this happen.
Agadir city authorities have recently contacted Le Coeur sur la Patte to discuss setting up a new TNR scheme. The new campaign will include education for the community on the benefits of vaccinating dogs
against rabies as well as neutering them.
We are extremely happy about this as we strongly believe that this is the only way to free Moroccans from the threat of Rabies and to reduce the street dog population and so improve the quality of life for the dogs. However, for the small team of people currently working for CSP, the priority must be to look after the animals already in our care. For this reason, we have decided to separate out the TNR, Educational and rescue aspects of the work from the Animal Refuge side. CSP will continue to campaign, educate and work with local authorities on TNR.
Impact:
Over 1500 stray dogs vaccinated against rabies and neutered in TNR programs with the local communes.
Interventions to prevent culling of dogs in communities and on-going discussions with local authorities.  
Formed a dog shelter with more than 750 dogs rescued. 
(content modified from nomination information)