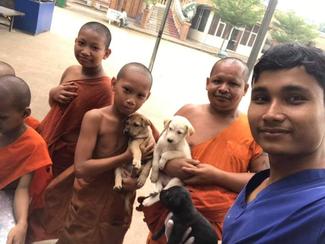 Description of our work
PPAWS is an animal shelter and veterinary clinic founded in 2011. Kea has been involved with the organization for over 5 years as head vet and has played a significant role in shaping the mission, goals and mandate. He is a strong advocate for animal welfare and is well-known and respected in the communities that we serve. PPAWS mandate is to reduce animal suffering through population control (desexing) and mass vaccination campaigns. We seek to help the stray animal population issues in Cambodia by offering free de-sexing and vaccination clinics, nationwide missions, assisting in the elimination of rabies in Cambodia, as well as improving the overall living conditions of cats and dogs in Cambodia through education. We use donations from animal lovers along with money we generate from our Veterinary practice to help fund us in achieving this challenging goal.
We currently have permanent clinics in the provinces of Phnom Penh and Kampot.
What we offer: VETERINARY SERVICES
We have full time vets who provide quality and affordable/discounted care for pets
ANIMAL WELFARE GUIDANCE
Training is a key part of what we do; we welcome opportunities to pass this knowledge on to others
ANIMAL WELFARE MISSIONS
Working with passionate volunteers and other animal rescue groups throughout Cambodia, we undertake special missions to provide medical care
Kea is always striving to help and has never lost his compassion and caring for animals. He represents fully what we as an organization set out to accomplish.
Impact in numbers
Free desex and vaccination:
Sterilize approximately 50 animals monthly in our clinics

Vaccinate approximately 35 through our free clinic

days.

Monthly provincial missions: 50 desex; 250 vaccinations

Pagoda Missions (Weekly): 10-15 desex; 150 vaccinations

Yearly total of free desex approximately: 1,870 Yearly total of free rabies vaccinations: 10,37
We also provide these services through our regular clinic at reduced/free costs to support the local community and pet owners.
Impact (description)
We have seen a larger respect and appreciation for animals and their need for care by the public through our missions (pagoda and provincial) and awareness raising work. We work closely with the local communities to explain the risks of the uncontrolled animal population and the measure that can be taken to minimize these risks and further reduce unnecessary suffering. We now see many local community members who are bringing in stray animals to have them vaccinated and desex from the streets, local markets, and pagodas. We have monks who reach out to us and invite us to their pagodas to perform mass vaccinations, desexing and general treatments for the many animals they help to take care of. We have individuals who will buy dogs from the meat industry and bring to us for treatment, desexing and vaccinations. These types of outreach efforts by the community were unheard of at our inception.
We have also seen an increased interest in animal adoption vs. buying from a pet shop/breeder.
Share a personal experience
Cambodia's stray population is entirely visible and is heartbreaking to see the amount of suffering and unnecessary death. Knowing that this is entirely preventable has encouraged me to work towards the ending of the suffering and be an advocate for the voiceless.
The lack of knowledge that is present surrounding rabies is also a tremendous problem in a country with such an uncontrolled stray population. Rabies is 100% preventable and approximately 800 people (most of them young) die annually here. It is 2021 and the preventable suffering and deaths (animal & human) need to end. There are no excuses.
Partners
Ministry of Agriculture, Forestry and Fisheries

Mission

Rabies

Vets Beyond Borders
*All information supplied by nominee*