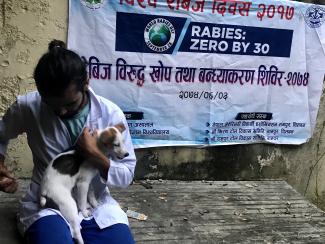 Mr Sandesh Gaudel has been involved in rabies prevention work since he joined university and studied the risks of rabies to endangered animals in the Chitwan National Park and the risks for humans. He has volunteered as a member of the Nepal Veterinary Students Association (NVSA) on many programmes. 
For World Rabies Day, in 2015, 2016 and 2017 week-long rabies awareness and vaccination campaigns were held. Vaccination campaigns included owned and street dogs. In 2017 they also conducted a castration program. Awareness was conducted for schools, communities and included a street drama.
They have also been door- to- door to educate people about rabies. To increase awareness among university
students, the NVSA has organized essay competitions on rabies. In the buffer zone of Chitwan National Park, communities were educated about wild canines and links with rabies. 
(Modified extract from nomination)