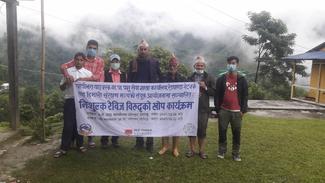 Description of our work
Free Rabies Vaccination Campaign in Nepal — for red panda and people!!!
Known for being human's best companion, dogs have infamously emerged as a major threat to the future of nearly 200 species worldwide, some of which are critically endangered. Dogs in Nepal are killing red panda— an endangered wild animal who has been increasingly victimize by dog bite resulting in its mortality.
Inhabitant of Panchthar-Ilam-Taplejung (PIT) district in eastern Nepal, red panda, dwells in broadleaf forest of high mountains where people lacks basic facilities from health care to education to road facilities in the far remote villages. The possibilities of having access to veterinary and vaccination services are beyond reach.
Red Panda Network (RPN), a non-profit organization, committed to protect wild red panda has been conducting free vaccination and awareness programs in 6 of nation's red panda range district i.e. Panchthar, Ilam, Taplejung, Jajarkot, Rukum, Rolpa. The campaigns are conducted in 24 remote villages of six districts, some villages take days to just reach there. The campaign kick started from August 30 and will continue till September
29. RPN collaborates with local agencies and community organizations in each district who then partnered with District Livestock Service Centre for technical support in implementing the free vaccination programs. We also operate free neutering service for those who are willing to do so. Further, we also educate and aware villagers about the danger of rabies and the importance of vaccinating animals. In 2021, we have managed to provide free vaccination for 820 dogs and 25 cats, few dogs are feral and free ranging.
Dogs, a top threat to wild red panda populations can also spread seven species of gastrointestinal parasites. These free vaccination campaigns are an effort to reduce such threat for red panda and people of those communities.
Impact in numbers
In 2021 to date, we have managed to provide free vaccination for 2,793 dogs and 67 cats.
Impact (description)
Red Panda Network has been conducting free vaccination and neutering program since 2020. The targeted districts are all red panda's range area, where most people have hunting and herding dogs used specially to guard other livestock in far off herding sheds in mountain area. People have no or very limited access for veterinary facilities. Previously, there were reports of dogs attacking wildlife from many villages especially red pandas. There are few records of dog killing red panda as well from Panchthar, Ilam and Taplejung district. The threats escalated as the dog population increased, but with our vaccination and awareness campaigns dog's owners are aware of the importance of vaccination and some opt for neutering as well.
RPN has always received support from local organization and district livestock center as well as local groups and communities. The free vaccination campaigns are always a huge success as villagers came to the vaccination center from far places, many walks for hours to get to the vaccination centers.
We disseminate the free vaccination campaigns through local radio services of each district weeks prior to the actual campaigns. Since, the vaccination campaigns we haven't heard or got account of red panda's death via dog bite. Villagers are more open and willing to vaccinate their dogs, cats but majority still has a huge misconception on neutering their animals.
Share a personal experience
I was born and raised in Yamphudin village of Taplejung district —one of the red panda's range districts. When I was a child, I wasn't quite aware of its name and endangered status, but unfortunately had witness dogs killing them. I was a victim of a vicious dog bite at the age of 12 when visiting to my maternal grandmother. The bite has left scares over my leg and hand. Dog bites were common those days. And to everybody's amusement we didn't have any medication. Fast forward to today, as a wildlife conservationist, when I look back this incidence had remained encouraging me to do something for red pandas and people of my village.
Partners
Local partners in all districts.

Deep Jyoti Youth Club (Panchthar)

Mountain Organization (Ilam)

Himali Conservation Forum

(Taplejung)

Danphe Yuwa Club (Jajarkot)

Human Right Awareness Center (Rolpa)

Human Rights Environment Development Campaign and Research Center

(Rukum)

District Livestock Service Centre, Government of Nepal of each

districts.
*All information supplied by nominee*