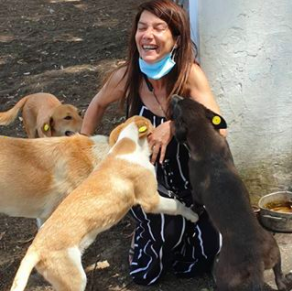 My work:
Activities for Salima Kadaoui never ends, but the key activities in the field of rabies eradication are:
TNVT - treat, neuter, vaccinate and tag
Dialog and Education (community engagement, advice, education of children, dialog with people in neighborhoods with tagged dogs). Dialogue with the authorities regarding culling of dogs and the TNVT program being adopted by the authorities as alternative to culling.
Emergencies and rescue of sick or abandoned animals.
Yearly Boosters - very important that each animals has their yearly booster.
Successes:
Salima is the founder and president of the charity and SFT successes are of course shared among all the
volunteers and employees but they are also very much rewards for the foundation and structure Salima has been building for years. Through her work, her organization has been approached by movie makers and media, many people are fascinated by the work done and the dedication of a single woman in Morocco. She has given up all for the goals, including her house and her businesses.
The crisis of COVID19 has certainly not been helpful but Salima never stops. The TNVT continues, as well as the rescues. Apart from going out there everyday to feed and look after the strays (as many of the guardians and volunteers are limited in movement) she also made sure to get food packages donated in order to also help poor families, homeless and people in need. She embraces the Project Hayat mission - protecting all - humans and animals to the fullest. She is truly remarkable. Elimination of rabies in Morocco using the TNVT method is still not understood by the greater public. It takes a Salima Kadaoui to explain,
to educate and to change the mindsets. Vaccination is the right way to eliminate rabies, but to succeed in a country like Morocco it also needs a voice that reaches the public and Salima is really that voice.
Impact:
So far over 2500 animals have been vaccinated. It is impossible to say how many animal and human lives this has been saved, but it is sure to say that the impact is much bigger than just the number of vaccinated animals.
In addition, the Project Hayat also engages the community, a very important part of the work. A key component is the education of children - how to avoid dog bites and approach animals. Salima understood early that only through children a real change can take place! To date over 40,000 children have been educated by SFT. In the beginning Salima went from school to school to speak to children. Eventually with the growth of SFT and more work, she has engaged students and volunteers to do this work, to reach as many children as possible.
Salima also very often gives advice to people on how to care for animals, encouraging each individual to be part of the change, to support the way Project Hayat is protecting all, explaining the importance of vaccinations. Sometimes it is not even about the financial aspect of vaccination but pure awareness. She is always available for advice and help to anyone that has questions and needs help. She also meets the people in the neighborhoods to speak to them about the tagged Salima has engaged countless guardians, university staff, volunteers etc. in this movement and it is thanks to her efforts and dedication that so many
has followed.
One story that summarises it all is when the authorities called Salima to ask if SFT would take a dog of an Italian man that was suspected to be ill with Covid19. Even with the risks involved, Salima did not hesitate to engage and took the dog into the care of SFT while the man was in quarantine and tested for the virus. Salima will always put the people and animals in need first and this is what is her drive to create a harmony and friendly coexistence between humans and animals in the city and country of her birth and childhood.
 
(content modified from nomination information)