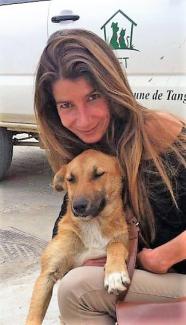 Ms. Kadaoui returned to her birthplace of Tangier in 2012 to realize a lifelong dream of opening a sanctuary to care for the area's stray, injured and abandoned animals. In 2013, SFT-Le Sanctuaire de la Faune de Tangier opened its doors and it's been running non-stop ever since.

SFT's educational programs are in full swing, with Ms. Kadaoui answering invitations to speak at major animal welfare conferences in Madrid and Tunisia and elsewhere. As she sees it, education is the key to permanent change.
Every year, thousands of Moroccan dogs are killed in mass, government-sanctioned cullings to control the population and fear of rabies. Determined to educate local authorities as to a more humane way to achieve the same goal, Ms. Kadaoui found herself in an uphill battle from the start. Progress was painfully slow but is now finally beginning to bear fruit, thanks in large part to SFT's Project Hayat, a program for treating, neutering, vaccinating and tagging Tangier's stray dogs. To date, more than 5000 stray dogs and cats have graduated from the program and have been returned to their neighborhoods, now completely safe for humans to interact with. 
(Extract from nomination)