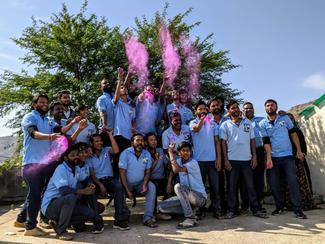 Overview:
Founded in 2005, TOLFA is a charity with animal welfare and people's empowerment at its heart.  We currently operate an animal hospital and related educational and support programmes in Rajasthan, Northern India. Since 2005 TOLFA has provided medical care, vaccinations, veterinary treatment and spay/neuter services to more than 170,000 animals.
Our work:
Rescue Project - Rescue phone line takes up to 30 - 50 calls per day and the TOLFA ambulances attend sick and injured street animals. All dogs that come to TOLFA are sterilised and vaccinated against rabies. If dogs have already been sterilised, they are given a rabies booster vaccination before release. TOLFA received nearly 13,000 rescue calls in 2019 and attended 96% of those calls.
Animal Birth Control (ABC)/Rabies Prevention Project - TOLFA has sterilised over 26,000 dogs and vaccinated approximately 32,000 dogs against rabies since 2005. TOLFA operates on 10 - 15 dogs every day.
Education Project - 1,652 children plus teachers/guardians reached in 2019, 913 children plus teachers/guardians reached in 2020 but project currently on hold due to school closures related to COVID-19
Impact:
TOLFA opened in October 2005 and has sterilised/rabies vaccinated over 26,000 dogs. Thousands of children and people in the community have benefitted from TOLFA's humane education and rabies awareness programme. The humane education curriculum includes the five freedoms of animal welfare, dog bite prevention, dog bite first aid and rabies awareness.
TOLFA has helped over 200,000 animals since we opened in 2005.
(content modified from nomination information)