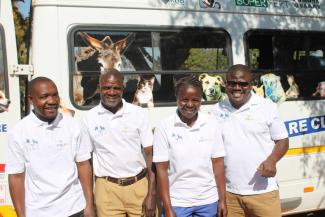 Victoria Falls: VAWZ's first rabies vaccination campaign was held in 2013 and it has returned every year since then. The focus has been mainly on the rural areas surrounding the town to help prevent the spread of the disease in both humans and animals - but also on stopping the disease spreading into wildlife areas (particularly into the endangered Painted Dog populations) as well as in some urban sites to help protect the vibrant tourism industry that plays an important role in Zimbabwe's economy. In 2016 VAWZ started to sterilize dogs in the rural areas to help control the population, and have continued with this programme. VAWZ was fortunate to receive a grant to build its Victoria Falls Animal Health and Welfare Centre on communal land just outside the town. A Veterinary Surgeon has been permanently employed(Nov 2016) and has, along with many other veterinary treatments, vaccinated a further 842 dogs from the surrounding communities.
Bikita/Nyika: VAWZ's project here kicked off in 2016 and it has returned every year since. The rural communities were desperate for help following the death of a young child from rabies. The number of dogs vaccinated has increased every year and this year the same is expected. Again this area borders on to one of the National parks so the prevention of the spread of the disease to wild animals is also a priority.
Honde Valley: This is the second year that VAWZ has been to the Honde Valley. Following on from a very successful campaign there last year it returned to again sterilize and vaccinate dogs against rabies.
The local community are extremely supportive of this initiative as seen by the number of dogs that are brought to the clinics. It is very rewarding to have the same owners return every year and to note the difference made in their animals - particularly with sterilizations. The dogs have gained weight, are in much better condition and are less likely to wander off thereby decreasing their chances of having an altercation with a rabid animal. All the vaccinations and sterilizations are carried out free of charge to these mainly impoverished communities, many of whom have very little or no access to veterinary treatment for their animals.
VAWZ is also involved, together with other animal welfare organisations, in the mass vaccination programme currently being run in the communities bordering on to Harare City. 
(Modified excerpt from nomination)