International publications highlight World Rabies Day's value and recent progress
World Rabies Day (WRD) is always an opportunity for action at all levels from local to international. GARC has been reflecting on the history, growth and development of WRD in an article entitled "World Rabies Day - a decade of raising awareness" to be published in the journal Tropical Diseases, Travel Medicine and Vaccines this month. It is very gratifying to see how the number of registered events has grown over the years—to a total of over 1700 up to 2015—and how increasingly the day is being utilized to raise awareness in rabies endemic countries.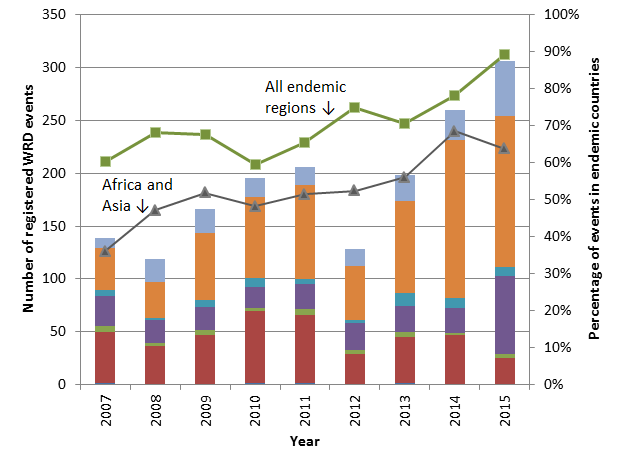 The adoption of WRD to support rabies elimination targets in the Philippines is showcased in another article in Tropical Diseases, Travel Medicine and Vaccines entitled "World Rabies Day Campaign in the Philippines". For last year's WRD, 76 events were registered in the Philippines as many regions with canine rabies control programmes utilise the opportunity to maintain high awareness of the disease and its prevention. Celebrating the progress achieved, the highlight of the Philippines national WRD celebration is the Declaration of Rabies-Free Zones.
Additionally, editorials in two significant international health journals have utilised the opportunity of WRD to keep rabies on the global health agenda, and to report on progress in its control at the international level.
Together with OIE, FAO and FAO, GARC co- wrote an editorial in The Lancet Global Health entitled "2016: The Beginning of the End of Rabies?". The article starts by reminding us that every time WRD comes around it is another uncomfortable reminder that preventable deaths are still occurring in the world's most neglected communities. It reviews the progress made at and since the Global Meeting on Rabies in December 2015 and calls for the vaccines and tools we have available to be applied equitably in order that the elimination framework agreed upon can end human rabies deaths.
In the WHO's Bulletin, an editorial entitled "Rabies vaccine stockpile: fixing the supply chain" by the NTD department and others announces a new WHO human rabies vaccine stockpile to compliment the dog rabies vaccine bank run by the OIE. The new stockpile should be operational by the end of 2017, addressing the desperate need for life saving vaccine to reach everyone who needs it after an exposure. It also announces an upcoming review of the WHO vaccine position paper, "WHO's Strategic Advisory Group of Experts on Immunization", will review advice on the use and scheduling of rabies vaccines and immunoglobulins in view of scientific evidence, programmatic feasibility and clinical practice in countries with a high incidence of dog bites.
Contributed by Louise Taylor, Scientific Director, GARC.