Donate
Help to prevent the daily tragedies caused by rabies.
You can make a difference
Your support protects people and animals from the deadliest disease on Earth - rabies.


To donate in US$
Please use this link to donate in US$ from any country in the world. Your donation is processed securely by PayPal. 
Or choose to donate to a particular element of our work, either as a recurring or one-off donation: 
To donate in GBP (£)
Please visit our Virgin Money Giving page here to donate to the Alliance for Rabies Control (the Alliance for Rabies Control is GARC's sister charity in the UK, SC no. SC037112).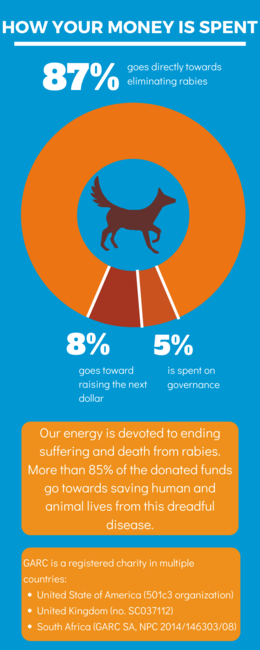 By Shopping
Support us when doing your online shopping. It is completely free for you and helps raise money in support of our cause!
By Post
If you feel more comfortable donating via post, please look through our guidelines to make the process as easy as possible for you. 
By leaving a legacy
If you would like to donate by leaving a legacy, find out more about the different means of donation and the various processes and guidelines to ensure a smooth, hassle-free process.