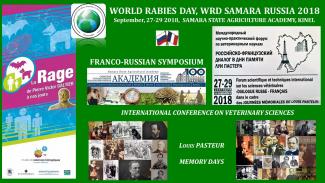 For the first time in Russia, with the help of 4 scientists from the French delegation, Micha ROUMIANTZEFF organized during 3 days, a WRD with its 3 components:
- Scientific conferences by Russian and French speakers,
- Information for the General Public, veterinarians and doctors of the Samara region, parents and teachers of school children,
- Pedagogical workshops for school children, with distribution of a book on rabies in Russian.

In addition, during these 3 days, a Franco-Russian tribute was paid to Louis PASTEUR.
Samara was in 1886, one of the first 3 "Pasteur Station" in Russia.
Event images