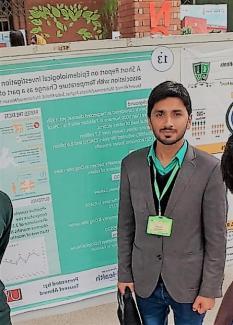 Dr Ahmed has been actively involved in rabies related activities for the last 3-4 years. He implemented the first Knowledge, Attitude and Practices (KAP) survey on rabies in K.P.K and Punjab provinces of Pakistan.  He also did a KAP survey on ecology and epidemiology of rabies in two geographically distinct regions of Pakistan.
As a part of Department of Epidemiology and Public Health, UVAS, he organized the first and free mass dog vaccination campaign in city of Lahore and its outskirts. Despite limited resources, they not only reached people and their animals in remote places, but also broke the psychological barrier for many of the veterinary students and community in general to vaccinate stray dogs. They created an atmosphere where the community was encouraged to understand that animals, including stray dogs are valuable and they should not be ignored when it comes to risk to their life.
He  presented a paper on rabies at the First National Conference on Public Health in Pakistan in March 2019, and is potentially continuing his academic career internationally after he graduates with a Master's degree in Epidemiology and Public Health. 
(Extract from nomination)