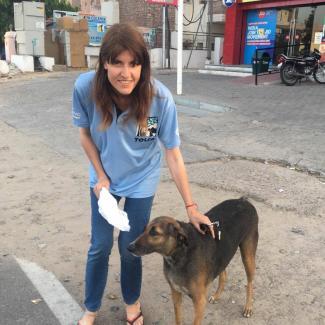 Rachel  Wright has worked as a veterinary nurse for many years and founded TOLFA Tree Of Life For Animals in 2005. Rachel has ensured that despite staff and funding limitations, a huge increase in the number of rescue calls received and number of animals being admitted to the hospital that the ABC-R (animal birth control - rabies) project has continued throughout the year.
Rachel continues to educate new staff, local children and our rural communities in the benefit of rabies vaccinations for animals and people, and also dog bite prevention and first aid.
Rachel liaises with local humanitarian NGOs and schools so that when there are any rabid dog bites reported, that there is a smooth rescue operation and that the affected local community members receive their rabies vaccinations. Rachel maintains a brilliant rapport within the local community and is very well respected among them.
To her knowledge, Rachel has not heard of any rabid dog bites in Pushkar (local town) since the last rabies vaccine drive performed there by TOLFA in 2017.
An increased number of local people are calling TOLFA requesting their local street dogs be sterilised and vaccinated against rabies. Previously, the TOLFA team were out looking for and catching street dogs, whereas now many community members will let us know where new dogs are. 

In 2018 TOLFA attended 9801 emergency calls, admitted 6392 animals, sterilised 1917 dogs and vaccinated 2744 against rabies.
TOLFA also treated 14741 rural village livestock and educated 834 local school children about animal welfare and dog bite/rabies prevention.
(Extract from nomination)