GARC directors Receive Awards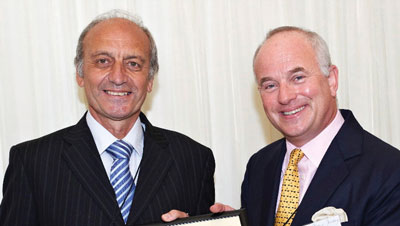 Ray Butcher, has became only the ninth person to receive the Dogs Trust's highest honour, the Phyllis Mayer Argus award. Dogs Trust said that it wanted to recognise Mr Butcher's achievements as a global ambassador for animals through his work to improve standards in animal welfare in 48 countries across the globe, advising vets and welfare workers. Mr Butcher, has been a partner at the Wylie Veterinary Centre in Upminster for more than 30 years, is a past-president of the British Small Animal Veterinary Association and of the Federation of European Companion Animal Veterinary Associations. He is a founder of the Blue Dog Trust, a programme developed to reduce the risk of children being bitten by dogs, a board member of the Alliance for Rabies Control and a veterinary adviser to the World Society for the Protection of Animals (WSPA).  
 Dr Deborah Briggs, Executive Director of the Alliance was also recently recognized by the Association for the Prevention and Control of Rabies in India for the contribution that she and the Alliance have made to improving advocacy for rabies prevention across the world. Dr Briggs was invited by the APCRI to present the Louis Pasteur Oration at the annual conference of APCRI in Chennai, India. It is the first time that a rabies expert outside of the country of India has received the award for contributions in the field of rabies prevention.
 The Alliance extends its congratulations to Mr Butcher and Dr Briggs on their awards and looks forward to future fruitful collaboration with them.