Grenada team wins Global One Health Challenge
Congratulations to the team from St George's University, Grenada, for winning the first Global One Health Challenge!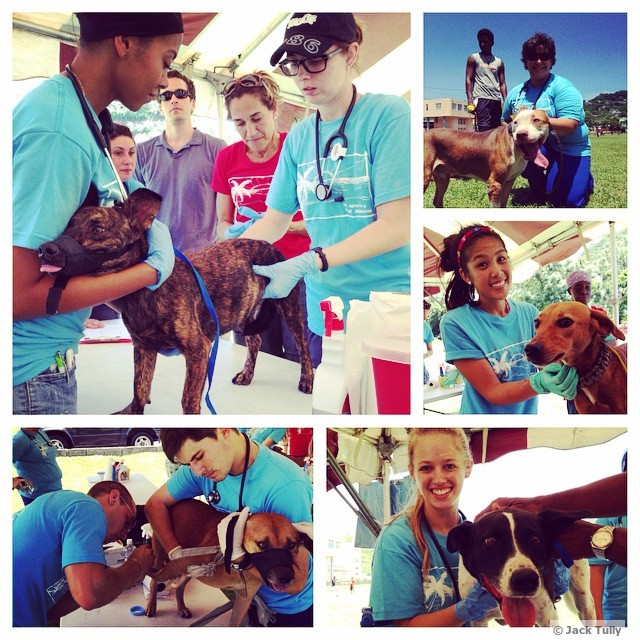 Their entry for this competition, entitled Tackling Rabies: One Island at a Time, truly demonstrated the One Health approach, with veterinary and medical students working together and involving the government and other student groups.  They used creative ways to reach a range of audiences and increase awareness of rabies prevention in their region, focusing primarily on rabies education, community outreach initiatives, and rabies fundraisers.
Among their initiatives were:
Live television and radio interviews
Outreach clinics (including a One Health One Medicine clinic)

over 200 animals received free health checks and other veterinary services including deworming, vaccination, tick and flea preventatives
rabies flyers were distributed to hundreds of Grenadians
rabies posters were erected in the communities
medical students provided 150 free examinations to local Grenadians, including free vision and hearing tests, blood pressure tests, blood sugar tests, breast exams.

A Gala for Rabies Awareness that brought together St George's University faculty, students and staff as well as officials from The Ministry of Health and The Ministry of Agriculture
Fundraising events including bake sales, a "One Paw At A Time" fundraiser, and auctions – the funds raised were used to buy rabies vaccines for government programmes
The winning team from St George's University, Grenada, has won the opportunity to participate in the WVA/WMA Global Conference on the One Health Concept in May. The prize was kindly funded by World Animal Protection.
The team travelling to Spain, Sarah Addison, Maggie Mottram, Ashley Marshall, Ailin Corella, and Nitasha Sharma, shared their thoughts on winning:
"Many students at St. George's University understand how veterinary medicine, human medicine, and public health overlap. Not only do we share a campus and an island we call home for up to three years, we share the One Health One Medicine fairs - joint health clinics for both humans and their animals.
Winning the GARC One Health Challenge is a great accomplishment for all of Grenada. We are extremely honored to be representing the One Health view of St. George's University in Madrid this May!"
You can watch a short video documenting their project here
There has to be a winner but it wasn't easy to choose, and we'd like to thank all the teams who participated in the Global One Health Challenge – 28 inspiring entries from 17 countries across the world. We'll be showcasing some of the entries on Facebook over the next few months – we hope that they continue to work to protect their communities from rabies and that their dedication and creativity will inspire others to do the same.
The first Global One Health Challenge, a competition for veterinary and medical students all over the world, was organised by the International Federation of Medical Students' Association, the International Veterinary Students' Association and the Global Alliance for Rabies Control on the occasion of the 8th annual World Rabies Day on September 28th, 2014.