Ride for Rabies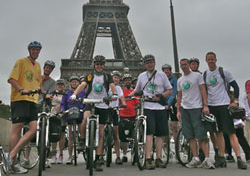 Each year, scientists and veterinarians from the Animal Health and Veterinary Laboratories Agency in the UK set themselves a challenge in order to raise awareness for World Rabies Day and funds for GARC. 2011 was no exception, and joined by colleagues from Defra, the University of Cambridge, and the Institute of Animal Health, a 17 strong team set off from Paris with the aim of cycling the 200 miles from the Institut Pasteur, back to the AHVLA's laboratories at Weybridge, Surrey.
Day 1 saw the team navigating their way out of Paris, to the intrigue of tourists and locals alike. Making it out into the French countryside, a deluge of unexpected rain had everyone soaked but didn't dampen any spirits, which remained high over the 3 days despite numerous slips, skids and one rather too close encounter with a tree!
Many members of the public were interested to know more about the cause, and the team were able to raise awareness of the dangers of the disease and the scale of the problem by talking to passers-by both in France and England. It is alarming to realise that in the three days it took to cycle from Paris to Weybridge, over 400 people worldwide would have died from rabies, with a large proportion of those being children.
Late afternoon on August 15th, the weary but triumphant team pedalled the last few metres into the AHVLA Weybridge still in one piece, albeit with a few physical souvenirs! A fantastic reception from colleagues, friends and family had everyone smiling, and looking forward to what next year's challenge might bring.
Since completing the cycle over £1000 has been raised for the GARC and the team are very grateful to all those who have contributed, Further contributions can be made at www.justgiving.com/World-Rabies-Day-2011.
Contributed by Daniel Horton and Emma Wise of the AHVLA. The Alliance's sincere congratulations and thanks go to all of the riders: Dan Horton, Emma Wise, Ash Banyard, Hubert Buczkowski, Stacey Leech, David Selden, Nick Johnson, Sarah Mcgowan, Andrew Breed, Balazs Toth, Julian West, Alison Peel, Olivier Restif, Bryony Armson, Mike Cowls, Nicola Bennett and Gavin Moire as well as the car support crew of Claire and Mike who followed patiently behind.