Rabies outbreak in northern Malaysia ends after vaccination and culling campaigns
On November 3, Malaysian health authorities announced that the rabies outbreak plaguing the northern states of Perlis, Penang and Kedah had finally ceased. No new cases had emerged in these regions since September 21—an outbreak that started in late July—and the Malaysian Department of Veterinary Services (DVS) indicated that mass vaccinations and cullings would no longer be necessary to control the spread of the disease. In total, the DVM verified 10 rabies cases in dogs over the course of the approximately 2-month outbreak, with no cases occurring in people.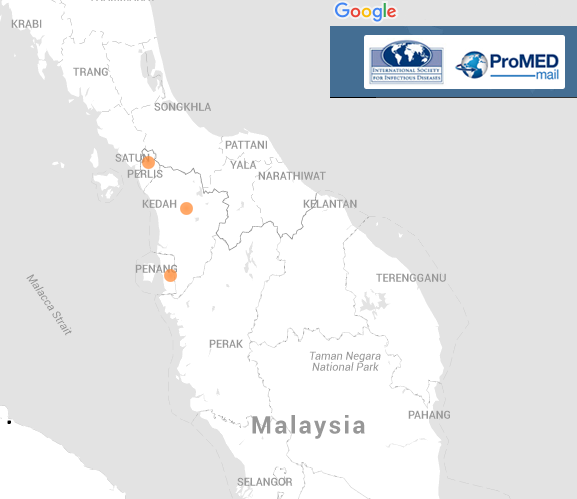 This rabies outbreak—occurring in states bordering rabies-endemic Thailand—was Malaysia's first since 1999 and has relegated Malaysia down from its rabies-free status that was previously conferred by the World Organisation for Animal Health (OIE) in 2012. A two-year waiting period will now be needed for this Southeast Asian country to be considered rabies-free again in accordance with the OIE's terrestrial animal health code. DVS officials suspect that the rabies outbreak originated in southern Thailand, and then cases were transmitted to dogs in Malaysia's "rabies immune belt," a zone 50-80 Km along the Thai border, in spite of the high-level surveillance and dog control programmes in this boundary area, which include ongoing vaccination of all owned pets and removal of strays.
The first outbreak occurred in the state of Perlis, where four dogs, two of which were later confirmed as having rabies, bit eight people. DVS officials in Perlis responded with preventative measures, vaccinating pet dogs and stockpiling vaccines, issuing health alerts, and educating residents on how to avoid dog bites. However, a rising number of cases in the nearby states of Penang and Kedah in mid-September prompted Malaysian health authorities to begin a more aggressive response. Penang DVS officials announced on September 17 that they would begin culling all stray dogs—estimated to be about 25,000 in just the state of Penang alone—and enforce vaccination of all owned pets. Kedah and Perlis quickly followed with mass culling orders of their own, and by October 8, over 4,500 dogs in these northern regions had been killed. With no new transmissions after September 21, the government ultimately lifted the orders for mass cullings of strays on October 10. Alongside these cullings, over 8,150 dogs, were vaccinated in Kedah, Perlis and Penang states in response to the outbreak.
Other anti-rabies measures instigated by the afflicted regions included disease education and strict dog containment and quarantine programmes to help stop the southward spread of the virus. Owned dogs were confined to their homes, cages or leashes, or they risked being targeted for culling. These rabies-control approaches were based on provisions in Malaysia's Animal Act of 1953 and adhered to ASEAN and OIE's 2013 Dog Rabies Elimination Strategy for the Southeast Asian region and the OIE's Terrestrial Health Code on Infection with Rabies Virus–approaches and regulations that have helped Malaysia effectively control rabies since their last outbreak in 1999.
Unsurprisingly, the mass cullings proved to be the most controversial of all the anti-rabies measures, triggering many NGO's working with animals to denounce the cullings as too harsh and left many wondering why mass vaccination campaigns alone were not used instead to stem the tide of rabies cases. The local media, in fact, attributed a heightened sense of panic to the mass cullings, pointing to a lack of understanding of the disease that was driving a number of owners to abandon their pets and an increased demand for vaccinations in areas unaffected by the outbreak.
Submitted by Laura Baker, GARC newsletter contributor, summarized from articles in AsiaOne, "Rabies in Malaysia: A viral response,"Today, "Penang lifts order to cull rabies-infected dogs in state,"The Malaysian Insider, "Rabies cases prompt mass dog cull, quarantine,"ProMED reports and OIE notifications 18497 and 18929.