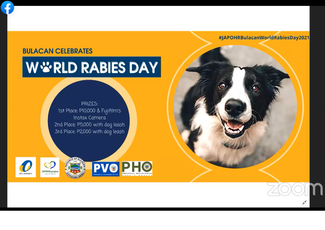 In collaboration with Japan Philippines One Health Rabies (JAPOHR) project, Provincial Government of Bulacan is hosting the TikTok challenge to promote the World Rabies Day in 2021.
All the residents in Bulacan are eligible to submit their TikTok videos to show their love for their fur-babies to the challenge's official web site (https://www.facebook.com/RabiesFreeBulacan2021) for cash prizes. They can earn extra points if their videos contain positive messages about rabies vaccinations and no-free roaming.
Winners will be announced on Wed, September 29 via Facebook live.
The event will also showcase the Rabies Data Share System to be launched as a pilot in Bulacan as well as the rapid rabies diagnosis kits.
UPDATE: The challenge had 77 entries from residents of Bulacan and the Facebook live announcing winners were viewed by more than 3,000 Facebook users (as of Oct. 4).
Event images