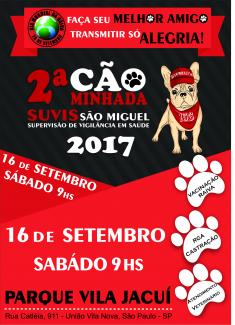 O evento 2° Cãominhada de São Miguel Paulista irá atender a população que frequenta o local, para ações de conscientização, prevenção e informações para combate a raiva humana e animal, onde mostraremos como ocorre a transmissão e como agir em caso de mordeduras.
Teremos neste dia:
Registro Geral Animal (R.G.A.), com orientação de como proceder para obter castração;

Vacinação contra a Raiva animal (ao lado de fora da entrada do parque);

Palestras com orientações sobre mordedura de cães e gatos (como evitar que ocorra a mordedura, procedimentos no momento da mordida, qual equipamento buscar atendimento e qual tratamento a ser realizado) e sobre morcegos (apresentação dos tipos de morcego e como proceder ao encontrar um);

Estandes de serviços prestados pela Supervisão de Vigilância em Saúde de São Miguel Paulista com equipamentos e EPI para visualização;

Informativos sobre dengue, zika vírus, chikungunya, posse responsável e etc;

Exposição dos sinantrópicos;

Pinturas educativas em quadros;

Equipe voluntária de estudantes e professores de medicina veterinária para orientação e atendimento especializado dos participantes da Caominhada;

Lançamento da campanha de redução em 30% de casos de mordeduras até 2030 (30% menos mordidas em 2030).

Faremos a distribuição de mais de 300 cartilhas Quer um Amigo, seja um Amigo para os participantes da 2ª Cãominhada
• P.S.: Evento ocorrerá no Parque Linear do Jacuí (Núcleo Engenheiro Antônio Arnaldo de Queiroz e Silva), situado na Rua Catleias, n° 911.
• P.S.2: O 1° evento fora nomeado para participação no congresso RITA XXVIII (International Conference on Rabies in the Americas) em Calgary, Alberta, Canada
• P.S.3: O apoio financeiro para estas atividades é oriundo de apoio de empresas locais, intensificando assim o envolvimento com a causa.
• P.S.4: Campanha de vacinação Antirrábica em cães e gatos 2017
Realizamos a campanha de vacinação antirrábica esse ano do dia 21 de agosto a 03 de setembro, o qual vacinamos 39.659 animais na nossa região um aumento de 14% em relação ao ano anterior que foi de 34876 animais.
• P.S.5: Contaremos com a participação da Senhora Rosangela Ribeiro Gebara Graduada pela FMVZ- USP em 1995, onde atuou como clínica de cães e gatos durante 8 anos e lecionou na FAC – Faculdade Comunitária de Campinas entre 2007 e 2009 nas disciplinas de Clinica Médica e Bem Estar Animal . Sou Especialista em Bem Estar Animal pelo Cambridge e-Learning Institute (2007), Especialista em Bioética pela Faculdade de Medicina da Universidade de São Paulo (2009) e mestre em ciencias animais pela FMVZ-USP. Atualmente é Gerente de Programas Veterinários da World Animal Protection (conhecida anteriormente como WSPA) e responsável pelos programas de animais de companhia e pela campanha Better lives for Dogs.
Experiência
Gerente de Programas Veterinários
World Animal Protection - Proteção Animal Mundial
janeiro de 2010 – o momento (7 anos 9 meses)
A World Animal Protection é uma organização não governamental global, com sede em Londres, que há 50 anos trabalha pela proteção e bem-estar dos animais. Com 14 escritórios em todo o mundo, incluindo no Brasil, atua em mais de 50 países em quatro frentes principais de trabalho: bem-estar de animais de produção, animais em situação de emergência, animais em comunidades e animais silvestres. É a única ONG dedicada ao bem-estar animal com status consultivo pelas Nações Unidas, parceria com a OIE (Organização Mundial de Saúde Animal) e representação junto às instituições europeias.
Informações sobre o dia do evento 16/09/2017
Realizamos no último dia 16/09/2017 a 2ª Cãominhada da Suvis São Miguel Paulista em comemoração ao dia mundial contra a Raiva Animal. Participaram da Cãominhada mais de 130 animais, onde distribuímos – camisetas, medalhas e brindes para todos os participantes.
Evento realizado numa manhã de Sábado das 09hs às 14 hs, onde fizemos a vacinação antirrábica de 123 animais sendo 77 cães e 46 gatos.
Atendemos 86 pessoas para cadastro de RGA (Registro Geral do Animal) e encaminhamento para esterilização "Castração"
Foi feita orientação veterinária para mais de 200 animais nas seguintes especialidades, Dermatologista, Nutrição, Endoparasitoses, Oncologia Mamária e Cardiologista.
Palestra da WPA onde tivemos a presença da senhora Rosangela Ribeiro Gebara e uma contadora de história sobre programa 5 chaves para evitar mordeduras de animais onde as crianças presentes tiveram a oportunidade para conhecer o programa
Distribuímos mais de 150 unidades do "Livreto Quer Um Amigo, Seja Um Amigo" para os participantes do evento.
Público presente estimado em mais de 800 pessoas 
======================================================================================================================================
The 2nd event of São Miguel Paulista to attend the population that attends the site, for actions of awareness, prevention and information to combat human and animal rabies, where it shows how to happen and how to act in case of bites. We will have this day:
General Animal Registry (R.G.A.), with guidance on how to proceed to get castration;

Vaccination against an animal Anger (outside the park entrance);

Lectures with guidelines on biting dogs and cats (how to avoid biting, procedures at the time of bite, which equipment to seek care and what treatment to perform) and on bats (presentation of bat types and how to proceed to find one);

Stands of services provided by the Health Surveillance Supervision of São Miguel Paulista with equipment and EPI for visualization;

Information on dengue, zika virus, chikungunya, responsible possession and etc;

Exposure of synanthropes;

Educational paintings on paintings;

Volunteer team of students and professors of veterinary medicine for orientation and specialized assistance of the participants of the Caominhada;

Launch of the reduction campaign in 30% of bite cases by 2030 (30% fewer bites in 2030).

We will distribute more than 300 booklets. Want a Friend, be a Friend for the participants of the 2nd Cãominhada
• P.S .: Event will take place at Jacuí Linear Park (Núcleo Engenheiro Antonio Arnaldo de Queiroz e Silva), located at Rua Catleias, n ° 911.
• P.S.2: The 1st event was nominated for participation in the RITA XXVIII (International Conference on Rabies in the Americas) in Calgary, Alberta, Canada
• P.S.3: The financial support for these activities comes from the support of local companies, thus intensifying the involvement with the cause
• P.S.4: Antirrabies vaccination campaign in dogs and cats 2017
We conducted the anti-rabies vaccination campaign this year from August 21 to September 3, which we vaccinated 39,659 animals in our region an increase of 14% over the previous year which was 34876 animals.
• PS5: We will count on the participation of Mrs. Rosangela Ribeiro Gebara Graduated by FMVZ-USP in 1995, where she worked as a dog and cat clinic for 8 years and taught at FAC - Campinas Community College between 2007 and 2009 in the disciplines of Clinica Medica and Animal Welfare. I am an Animal Welfare Specialist at the Cambridge e-Learning Institute (2007), Specialist in Bioethics at the Faculty of Medicine of the University of São Paulo (2009) and master in animal sciences at FMVZ-USP. He is currently the Manager of Veterinary Programs for World Animal Protection (formerly known as WSPA) and responsible for pet programs and the Better lives for Dogs campaign.
Experience
 SHAPE  \* MERGEFORMAT ​
Manager of Veterinary Programs
World Animal Protection - World Animal Protection
January 2010 - the moment (7 years 9 months)
World Animal Protection is a global non-governmental organization based in London, which has been working for the protection and welfare of animals for 50 years. With 14 offices worldwide, including in Brazil, it operates in more than 50 countries on four main fronts: welfare of production animals, animals in emergencies, animals in communities and wild animals. It is the only NGO dedicated to animal welfare with consultative status with the United Nations, partnership with the OIE (World Organization for Animal Health) and representation with the European institutions.
Information about the day of the event 09/16/2017
On the last day of 09/16/2017 we held the 2nd Cãominhada of Suvis São Miguel Paulista in commemoration of the World Day against Animal Rabies. More than 130 animals participated in the Cãominhada, where we distributed - t-shirts, medals and gifts for all participants.
* Event held on a Saturday morning from 09h to 14h, where we made the rabies vaccination of 123 animals, 77 dogs and 46 cats.
* We serve 86 people to register for RGA (General Animal Registry) and referral for sterilization "Castration"
* Veterinary guidance was given to more than 200 animals in the following specialties, Dermatologist, Nutrition, Endoparasitoses, Mammary Oncology and Cardiologist.
* WPA lecture where we had the presence of Mrs. Rosangela Ribeiro Gebara and a storyteller on 5 keys program to avoid animal bites where the children present had the opportunity to know the program
* We distribute more than 150 units of the "Booklet Want a Friend, Be a Friend" to the participants of the event.
* Public estimated at over 800 people
Event images