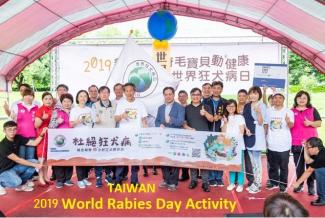 Event description: In 2019 Taiwan, the World Rabies Day was hosted by the New Taipei City Government. On the morning of 28th September (Saturday), the "Fur baby Health and World Rabies Day" event was held in the Zhonghe No. 4 Park. The quarantine dog demonstration was shown on site to detect the animal and plant products in the passenger baggage, advocating that "You do not bring animals and plants into the country". The police dog demonstration was shown on site for the riot prevention and drug search by the New Taipei City Police Dogs. The trainer of the dog training school also taught dog owners how to guide their dogs to use the facilities in the park for exercising and increasing interaction and feelings with their owners.
In addition to rabies vaccination, pet registration and adoption of the day, attended pet owners were invited to participate in rabies epidemic prevention activities. As long as attended owners and their pets collaborated with 2019's WRD promotional slogan "Rabies Ends Here" and marked the hashtag "Rabies-Ends-Here", they got the "rabies vaccine free coupons" or other cute beautiful gifts. On the day of the event, nearly 80 pet owners responded to the World Animal Health Organization (OIE)'s photo-series campaign. Through the public photo with the theme label, pet owners were encouraged to participate and enhance the honor and responsibility of the regular rabies vaccine for dogs and cats.
Since Taiwan has been a member since the establishment of OIE, the Bureau of Animal and Plant Health Inspection and Quarantine (BAPHIQ) will continue to participate in the exchange of international activities and strengthen the amount of rabies epidemic prevention in Taiwan in order to be in line with international standards.
Event images