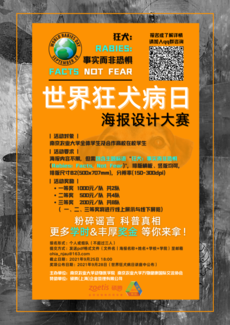 Background:
September 28, 2021 marks the 15th World Rabies Day. This year's theme, "Rabies: Facts, not Fears", reminds us to use facts to fight rumors and dispel the fear of rabies. Reduce infection rates by disseminating correct rabies knowledge, increasing rabies vaccination rates in animals and ensuring that exposed people are vaccinated in a timely manner. This year, Nanjing Agricultural University (NAU) held the second World Rabies Day event. The event lasted for 13 days and attracted faculties and students from NAU and other four universities including South China Agricultural University, Huazhong Agricultural University and Jiangsu Vocational and Technical College of Agriculture and Forestry, as well as five distinguished guests from well-known universities and institutions at home and abroad. The aim of 2nd NAU World Rabies Day event are  to promote rabies propaganda activities among veterinary students in China, and to inspire future veterinary generation to be involved in rabies prevention, control, research and 2030 Canine Rabies Elimination Campaign.
Event 1:
Poster Competition  for 2021 World Rabies Day
Date: Sept. 16 – 28 (Sept. 25: deadline for submitting the poster)
                                (Sept. 28: Awards given)
Poster competition for 2021 World Rabies Day is a creative project for students to express their understanding of the World Rabies Day. Their poster must incorporate a theme of "Facts, Not Fear" to promote knowledge about Rabies. In addition, Zoetis Enterprise Management (Shanghai) Co., Ltd. has sponsored the prize for the winner of this competition. The winners were awarded on Sept. 28th throughout the NAU World Rabies Day online seminar.
Event 2:
2021 World Rabies Day Online Seminar
Date: September 28th 2021
On September 28th, 2021, "One Health International Association (OHIA)", a student club of Nanjing Agricultural University, and faculty members of College of Veterinary Medicine, developed and organized an online seminar dedicated to the 15th World Rabies Day. We invited 5 distinguished scholars to share their expertise in various aspects of rabies with students from several Chinese agricultural universities. The aim of seminar was to raise awareness of rabies prevention and control through introducing science, epidemiology and clinical facts about rabies and correcting misconceptions.
Dr.Ling Zhao, the professor of Huazhong Agricultural University, spoke about "The research progress on the rabies virus pathogenesis". He provided a general overview of rabies transmission in this lecture. It is primarily transmitted by bites or scratches from a rabid animal or by licking wounds or broken skin. The virus then enters nerve cells via a special glycoprotein. Initially, the virus replicates in a limited manner in muscle cells, but it soon replicates in nerve cells in large numbers, causing symptoms like hydrophobia (fear of water) and breathing difficulties. 
Dr. Charles E Rupprecht, Biomedical Consultant from LYSSA LLC discussed the development of canine rabies prevention control around the world. In some regions, rabies in domestic animals has been eradicated . Currently, the threat of new rabies virus variants is the biggest challenge. To prevent and control this fatal but preventable viral disease, better methods and strategies are being employed, such as the vaccination of pets, the vaccination of stray animals, and the development of oral vaccines. 
Dr.Jinying Ge from Harbin Veterinary Research Institute shared with us her experience of rabies prevention and control. The lecture began with a patient's acute anxiety and fear of Rabies. Due to a low vaccination coverage in rural areas, wild and domestic animals have caused a high number of rabies cases in China over the past decade. To facilitate rabies prevention and control, it has been considered a great choice to administer the oral rabies vaccine to wild and stray animals.
Dr.Ye Feng from Changchun Veterinary Research Institute showed that some variant rabies viruses were capable of vaccine escape and could lead to vaccine failure. The rabies virus can be transmitted by any warm-blooded mammal, and today's vaccines cover most types of the virus. There are always exceptions, however. Therefore, constant statistical surveys are necessary. Researchers from Changchun Veterinary Research Institute are working together with international collaborators to research the epidemiology and evolution of rabies virus in wildlife, such as foxes. Ye Feng also argued that setting up information networks can make a big difference to rabies prevention and control.
Looking beyond the rabies virus, Dr. Meng Li, the associate Professor from Nanjing Agricultural University provided insights into Feline injection site sarcoma (FISS). Her lecture covered the inciting cause, clinical characteristics, diagnosis, and treatment of FISS. The treatment of FISS is a challenge for veterinary surgeons and oncologists. To reduce the risk of FISS, it is recommended to administer the rabies vaccine below the right stifle for cats.
Acknowlegements 
We thank the organizers College of Veterinary Medicine, Nanjing Agricultural University and One Health International Association (OHIA) to organize the event, thank our poster awards and seminar sponsor, Zoetis Enterprise Management (Shanghai) Co., Ltd.
Special thanks to all NAU OHIA students, faculty advisors Drs. Zhen Yang, Meng Li, and CVM associate dean Dr.Ruibing Cao, and NAU Office of International Relations for support.
Event images