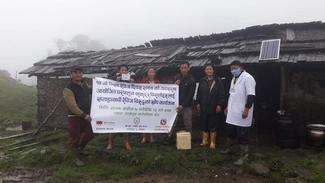 The main objective of the campaign is the provide free anti-rabies vaccination, neutering assistance & general medicinal support to dogs in rural communities of Nepal. Usually, disadvantaged communities in Nepal are deprived of basics health facilities for themselves let alone to arrange vaccination for their pets. Therefore, these free vaccination campaigns are being conducted in multiple remote villages of Nepal.
Our target is to vaccinate approximately 2300 dogs in 6 districts.
The campaign is done in collaboration with local councils of 6 districts, Panchthar, Ilam and Taplejung in Eastern region and Jajarkot, Rolpa and Rukum in Western region of Nepal in association with respective District Livestock Service Centers. Also, the campaign is executed by 6 local organizations and volunteers from respective district in support of Red Panda Network. The local organization involved are Deep Jyoti Youth Club, Panchthar, Mountain Organization, Ilam, Himali Conservation Forum, Taplejung, Danphe Yuwa Club, Jajarkot and Human Right Awareness Center, Rolpa, Human Rights Environment Development campaign and research center, Rukum. 
Red Panda Network initiated this campaign to address the prevalent threat caused by "Dog biting and killing" to red panda & other wildlife in those area. Several incidents have been reported by the local communities about feral dog attacking wildlife including red panda. Dog bite is proven to be fatal for red panda causing various zoonotic & parasitic diseases. So, to address this threat the campaign have been conducted for the welfare of the thriving wildlife population in those area. 
Event images