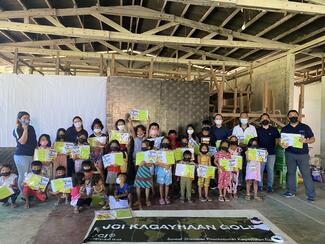 A community-based program that aims to raise awareness and deepen the understanding of responsible pet parenting and control the overpopulation of dogs and cats and eradicate rabies.
On the last 17th of June 2020, the JCI Kagayhaan Gold together with the City Veterinary Office of Cagayan De Oro, Brgy. Iponan of Cagayan De Oro and other corporate partners. The program has served 52 dogs and cats spayed and neutered, and 83 animals vaccinated with rabies. The team also conducted Tails of Hope: A rabies-free Filipino community interactive session with 40 kids and 135 pet parents highlighting bite prevention, rabies awareness, pet care, and responsible pet ownership.
The JCI Kagayhan Gold and its partners are committed to continuing the program, uniting more partnerships, and establishing a community zeroing rabies cases and deaths in 2030.
Event images