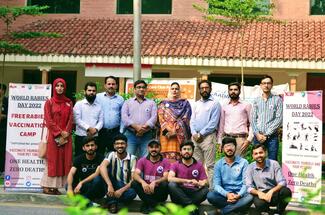 SAVERS, a student based non-profit organization is working for the relief & welfare of animals and to train (providing field working facilities to) veterinarians under the flag of UVAS, Lahore. SAVERS, keeping its legacy of educating the public and students about Rabies, celebrated World Rabies Day on 28th September 2022. 
Main Objectives:
The objectives of celebrating this day were to aware students and public regarding the rabies disease and to play role in eradicating this fatal disease by vaccination as well as educating community about the drastic effects of this disease.
Awareness Walk:
The celebrations started with the awareness walk which was led by the Worthy Vice Chancellor, UVAS and the associated university officials.
Free RABIES Vaccination Camp:
SAVERS organized Free Rabies Vaccination Camp at Pet Centre UVAS, Lahore to highlight the theme "One Health, Zero Deaths" inaugurated by worthy Vice Chancellor. We vaccinated 100+ pets against Rabies and Leptospirosis. Vaccination cards were distributed among pet owners to guide them about their vaccination schedule and importance of vaccine. 2nd dose of vaccine against following diseases was also administered in a free vaccination camp.
 Free Human RABIES Vaccination Camp:
SAVERS also organized Human Rabies Vaccination Camp at UVAS, Lahore to vaccinate respected faculty members of UVAS and cabinet of team SAVERS and general public as well. This camp proved to be a successful step towards motivating our team members and public for putting efforts towards rabies elimination. Three vaccination shots were administered intradermally at day 0, 7 and 21. The vaccinated members were given their rabies vaccination cards.
Public School Visits regarding Awareness of Rabies among Students and Teachers:
To educate our community about Rabies, its prevention and how to deal with Rabies, SAVERS played its role by arranging a Rabies Awareness Session at SOS Hermann Gmeiner School (boys wing) on 23rd September 2022. In the session there were approximately 150 students of grade 5 and 6. The primary Goal of this interaction was to educate students about Rabies including its causes, importance, pre and post preventive measures and animal handling. A quiz competition was also held to evaluate and increase understanding about the session. Students were given gifts as a token of appreciation. Overall, the session was a good success. Similarly, a 2nd session in continuation of rabies awareness theme was arranged at SOS Hermann Gmeiner School (Girls Wing) on 7th October 2022. Aim is to educate females part of society as they play a very important role in building a healthy and uprising community. Basic information about this dangerous zoonotic disease was covered in that productive session. These two visits were arranged to aware the young students, teachers and staff members through healthy, effective and productive interaction about rabies.
Event images