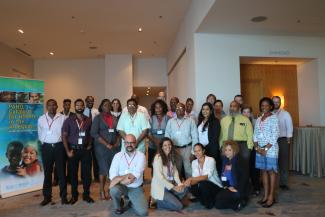 In the Caribbean region, there are 10 countries known to be endemic for rabies with three distinct rabies reservoirs: dogs, mongooses and vampire bats. The results of a regional rabies survey conducted by CaribVET indicated that while most of these countries have some type of rabies surveillance program, few of the other (non-endemic) countries conduct any structured surveillance for rabies particularly for sylvatic rabies.
In light of the lack of surveillance data in many Caribbean countries, the rabies status of bat populations in non-endemic rabies countries can be challenged. As such rabies surveillance guidelines for bat populations need to be developed particularly for countries that are non-endemic for the rabies virus. Therefore, PAHO/PANAFTOSA and the CaribVET Veterinary Public Health working group (Rabies Subgroup) proposed to partner with the Centers for Disease Control and Prevention (CDC) to conduct a workshop to develop rabies surveillance guidelines for bat populations in the Caribbean region.
The fundamental objectives of this workshop are:
To provide information on the recently developed WHO rabies risk classification system and the SIRVERA platform for the reporting of rabies cases
To develop surveillance guidelines for sylvatic (bat) rabies in non-endemic countries in the Caribbean
To train attendees on rabies surveillance methods including passive surveillance models
To present, discuss and validate a bat rabies ecological risk map for the Caribbean
To identify rabies diagnostic laboratories that can provide diagnostic support for surveillance in countries that currently do not have the capacity to conduct rabies laboratory testing.
To develop a road-map towards the establishment of a regional rabies reference laboratory for the Caribbean.
Event images