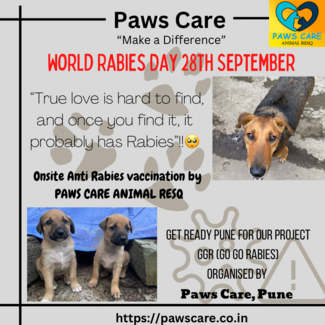 Team Paws Care Animal Resq is based in Pune city we are going to vaccinate more than 240+ street dogs onsite. Our project name is GGR (Go Go Rabies), Our main focus is on that dogs which are located on busy roads or on Highways where no one is there to take care of them, no one is there to vaccinate them.
On the occasion of World Rabies Day as our mission states to "Make a Difference" we are going to Make a Difference and are going to make world free from Rabies
We are the Team which are going to visit different areas and vaccinate dogs onsite.
For more info please visit our website https://pawscare.co.in
Event images