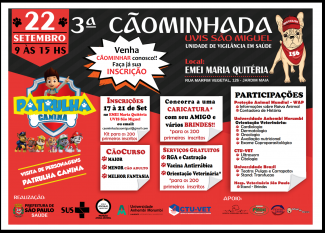 3ª CÃOMINHADA UVIS SÃO MIGUEL PAULISTA
DATA: 22/SET e 29 e 30/SET 
HORÁRIO: 9:00 ÀS 15:00 (PODENDO TER ALTERAÇÃO DE HORÁRIO) 
LOCAL: EMEI Maria Quiteria 
    Rua Marfim Vegetal, 126 – Parque Paulistano 
Programação do nosso Evento:
No dia 22 de setembro de 2018 vamos realizar nossa 3° Cãominhada da Uvis São Miguel Paulista esse ano com o tema, Raiva: Cãominhando vamos compartilhando essa mensagem. Uvis São Miguel Paulista no combate a raiva". O evento vai ocorrer na Escola Municipal EMI Maria Quitéria, localizada na rua Marfim Vegetal, 126 Jardim Maia. Realizaremos as seguintes ações:
 
1.    Registro Geral Animal (R.G.A.), com orientação de como proceder para obter castração;
2.    Vacinação contra a Raiva animal;
3.    Teatro com orientações sobre mordedura de cães e gatos (como evitar que ocorra a mordedura, procedimentos no momento da mordida, qual equipamento buscar atendimento e qual tratamento a ser realizado)  
4.    Palestra da WPA e contação de história sobre programa 5 chaves para evitar mordeduras de animais onde as crianças presentes terão a oportunidade para conhecer o programa
5.    Estandes de serviços prestados pela Unidade de Vigilância em Saúde de São Miguel Paulista com equipamentos e EPI para visualização;
6.    Informativos sobre dengue, zika vírus, chikungunya, posse responsável e etc;
7.    Exposição de animais sinantrópicos;
8.    Pinturas educativas em quadros;
9.    Equipe voluntária de estudantes e professores de medicina veterinária para orientação dos participantes da Caominhada (sobre oncologia mamária, cardiologia, endoparasitoses, dermatologia e nutrição)
10.    Lançamento da campanha de redução em 30% de casos de mordeduras até 2030 (30% menos mordidas em 2030).
11. Caominhada os primeiros 200 inscritos ganharam camiseta e medalhas do evento.

E ainda teremos:
No dia 29 e 30 de setembro vamos oferecer a população local a castração animal para mais ou menos 300 animais (cão e gato)
Universidade Anhembi Morumbi 
Com Orientação Veterinária em especialidades como:
            Cardiologia 
            Dermatologia 
            Oncologia 
            Avaliação Nutricional 
            Exame Coproparasitológico 
Universidade Brasil 
Apresentando Teatro: Com o tema: Orientação pulgas e carrapatos 
1. Stand: Transfucão 
2. Hematócrito 
Hospital Veterinário São Paulo 
1. Distribuição de brindes 
2. Mascote Pelúcia 
CTU Vet. DR Rafael 
1. Ultrassom 
WPA – Proteção Animal Mundial 
1. Contadora de Historia com tema: Sobre a Raiva
2. Programa 5 chaves para evitar mordeduras de animais.
=================================================================================================
English
3rd CÃOMINHADA UVIS SÃO MIGUEL PAULISTA
Date: 22/29 and 30 and SET/SET
Opening hours: 9:00 to 15:00 (and MAY HAVE TIME CHANGE)
Location: EMEI Lubabalo 
Vegetable ivory Street, 126 – São Paulo Park
Our Event schedule:
On day 22 September 2018 we will perform our 3° Cãominhada of São Miguel Paulista Uvis this year with the theme, anger: Cãominhando we sharing this message. Uvis São Miguel Paulista in the fight against rabies ". The event will take place in the school hall EMI Maria Quitéria, located on the street vegetable ivory, 126 Garden. We will perform the following actions:
 
1. General Animal Record (R.G.A.), with guidance on how to proceed for castration;
2. animal rabies vaccination;
3. Theater with guidance on biting dogs and cats (how to avoid biting occurs, procedures at the time of the bite, which pick up equipment and what treatment to be performed) 
4. Lecture of WPA and story-telling story about program 5 keys to avoid animal bites where the children will have the opportunity to learn about the program
5. service Booths provided by health surveillance unit of São Miguel Paulista and EPI equipment for viewing;
6. dengue briefs, zika virus, chikungunya, responsible ownership and etc;
7. display of animals sinantrópicos;
8. educational Paintings in frames;
9. voluntary Team of students and Faculty of veterinary medicine for guidance of the participants of the Caominhada (on breast Oncology, cardiology, endoparasitoses, Dermatology and nutrition)
10. reduction campaign launch in 30% of cases of bites until 2030 (30% less bites in 2030).
11. Caominhada the first 200 registered won t-shirt and medals of the event.

And we still have:
On day 29 and 30 of September we will offer local people the animal castration for more or less 300 animals (cats and dogs)
Universidade Anhembi Morumbi 
With Veterinary Guidance in specialities such as:
Cardiology 
Dermatology 
Oncology 
Nutritional Evaluation 
Coproparasitológico Exam
Brazil University 
Presenting Theatre: with the theme: flea and tick Orientation 
1. Stand: Transfucão 
2. Haematocrit
Veterinary Hospital São Paulo 
1. Giveaways 
2. Plush Mascot
CTU Vet. DR Rafael 
1. Ultrasound
WPA-World Animal Protection 
1. Accountant history with theme: On anger
2. programme 5 keys to avoid animal bites.
Event images