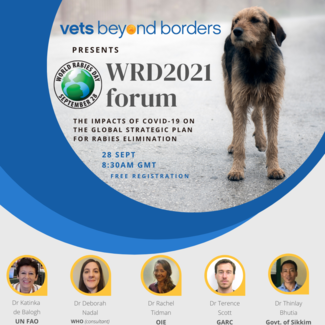 VBB is hosting a live discussion forum featuring representatives from the World Health Organization (WHO), World-Organisation for Animal-Health (OIE), Food and Agriculture Organization of the United Nations (FAO), Global Alliance for Rabies Control (GARC), and the Government of Sikkim, India.
In our 90-minute event, we'll be discussing the tripartite's (WHO, OIE, FAO) global strategic plan for rabies elimination, and learn how the COVID-19 pandemic may have impacted the current target of zero human deaths by 2030.
28 September, 8:30AM GMT.
Registration is free.
We encourage you to pre-submit questions relevant to the topic, and we may select yours to ask our expert panelists live!
Click the link below to learn more about our panelists and register your attendance.